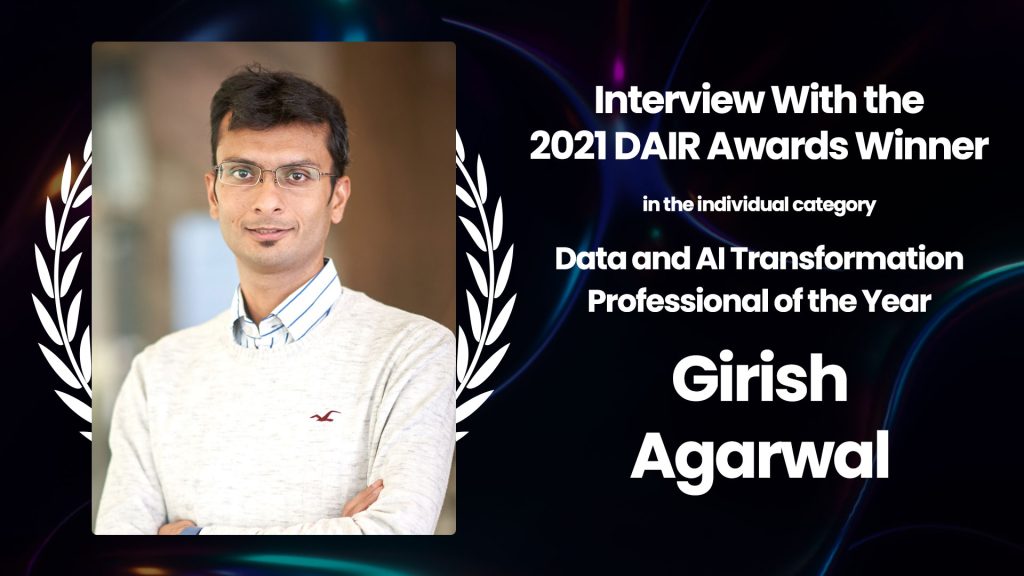 The Nordic Data and AI Readiness (DAIR) Awards acknowledge and celebrate exceptional individuals, teams, and organizations that have done great work in data, analytics and AI across the Nordics. Before the 2022 edition of the Nordic DAIR Awards, we talked with some of the winners of the 2021 edition.
Hyperight: Last year, when you got the "Individual Category Data and AI Transformation Professional of the Year" Award you were working at PIAB as a Chief Digital & Information Officer. Has anything changed since last year and what are you working on these days?
Girish Agarwal: The world and industry moves quite fast these days, so yes – even though the role has not changed for me, business and data maturity has increased in the company. The focus these days for me are the data platform, creation of new data driven services, and pushing new business models.
Hyperight: What motivated you to apply last year, and do you have any advice for future applicants?
Girish Agarwal: I think it was a very good platform to meet people with the same focus and learn from each other. Of course it is fun to get a status check from the market as well on what we have been able to achieve as compared to others. My advice is to use this platform as an opportunity to meet peers, brainstorm your challenges and take learnings in a fun way.
Hyperight: Looking back on the DAIR Awards from last year, how would you describe the experience of the ceremony? Did you expect to win the Award?
Girish Agarwal: Fantastic. I did not expect at all to win. My expectation was more on networking, reflecting and learning. But it's always fun to get recognized.
Hyperight: Has the Award made any difference in your career, and do you plan to apply this year?
Girish Agarwal: I am not sure if I can say that award has made a difference in my career. Definitely it has helped to push the cause for Data and Digital Journey within my own company. I would like to apply this year as well just to get a comparison done with others in the industry.
The deadline for applying and nominating for the 2022 edition of the Nordic DAIR Awards is October 15th. The Awards are divided into two main categories: Individual and Company. Explore more about the DAIR Awards.