According to Gartner, establishing a data culture is a top concern for Chief Data Officers (CDOs) in organizations. This is followed by advanced analytics capabilities to unlock metrics around how their businesses perform and establish data analysis strategies for better decision-making and data-driven decisions.
Knowing this, how can organizations build a data culture and change the way they work during their data-driven journey? Matt Turner, Director of Industry Strategy and Partner Marketing at Alation, points out that building a data culture is a continuous process and that there are three main factors that process must include:
Data access – the ability to find and understand data, know what data organizations have and where it is, make it available or democratize it, collaborate and learn from others.
Data literacy – enable proper interpretation and analysis of data and actively educate people in organizations on how to work with data, giving everyone information on what data is, who is working on it, what its impact can be, and how to use it properly.
Data governance – take responsibility and authority, how can organizations use it and what needs to be protected, empowering the use of data.
In this article, we will focus on data literacy as a key factor for building a data-driven culture in an organization.
The Importance of Data Literacy for a Data-Driven Culture
According to Markus Rytkölä, former Senior Director PreSales at Qlik, data literacy is the "ability to read data, work with data, analyze data and argue with data".
If one organization has data-literate employees or employees that are skillful with data, that means they know how to collect and connect the correct data, ask the right questions, apply techniques to derive meaning from data and communicate the achievements. According to Tableau, data literacy "includes critical thinking skills to use, interpret, and make decisions with data, then convey its significance and value to others."
Many findings conclude that data literacy can help organizations reach better results from their investments in machine learning, artificial intelligence and advanced analytics. According to Gartner, "data literacy is an underlying component of digital dexterity", which means that data-literate people in an organization have skills and abilities to use technology (existing and emerging) to turn data into insights, actions, and value and drive better business outcomes. By 2023, data literacy is expected to be part of over 80% of data and analytics strategies and change management programs.
Once an organization reaches a certain level of data literacy, there is a basis for creating or fostering a data culture. According to Insights-Driven Businesses Set The Pace For Global Growth, a report from October 2018, the benefits for organizations that have provided data-driven culture within the organizations are increased earning and seven times more increased revenue, as well as 2.8 times more likely to have double-digit growth. At the same time, lower data literacy minimizes the capacity of organizations to compete in the digital economy but also increases the risk of according to GDPR, SOX and other regulations.
"Data culture enables and empowers everyone in the company to make informed, good decisions based on data. It is about the availability of data, about people being capable and having the context, understanding how to use it and some of the tools to help them. There is a link between having a data culture and the performance of the business. Data culture is more of a business imperative, not just a 'nice to have'. If we start from that imperative, if data culture impacts your business, then you will get the stakeholder support, the executives will support it and desire it because they will expect some strong business outcomes.", said Steve Neat, GM EMEA at Alation during a panel discussion at the Data Innovation Summit in 2022.
Steps towards Becoming Data Literate
There is no silver bullet how an organization can spread data literacy across organizations, but some common elements include technology, processes, training and programs and change management. In this article we share the steps to become data literate by KPMG's global Behavioral Change Management (BCM) methodology. It starts with clarifying why becoming more data literate is important for organization. Once the goal is clear and set, it is up to the leadership roles to start with alignment. Having a cultural change plan is preferred to have the steps towards the goal to be communicated among people. This plan helps clear definition of expectations, behaviors, motivations, engagement of people with data literacy based on their roles.
The next step is to facilitate the process by implementing practical changes with tools, training and other approaches that will enable an environment on becoming data literate. In this phase people have not just understood about data, but they know how to work with data within the organization and according to their role. The final step according to this methodology is to constantly manage, communicate and monitor the change.
One crucial step in building data literacy in an organization is having a training program for the people in the organization. But according to David Dadoun, CDO of BRP, organizations must understand that different places within organizations, different teams and people within those teams will be on different levels regarding data literacy. The leadership and management must tailor the training programs for data literacy to make sure that the program is relevant to everyone and will have results. He suggests three types of tailor programs: descriptive and self-service, dashboard and data visualization and fundamentals of analytics.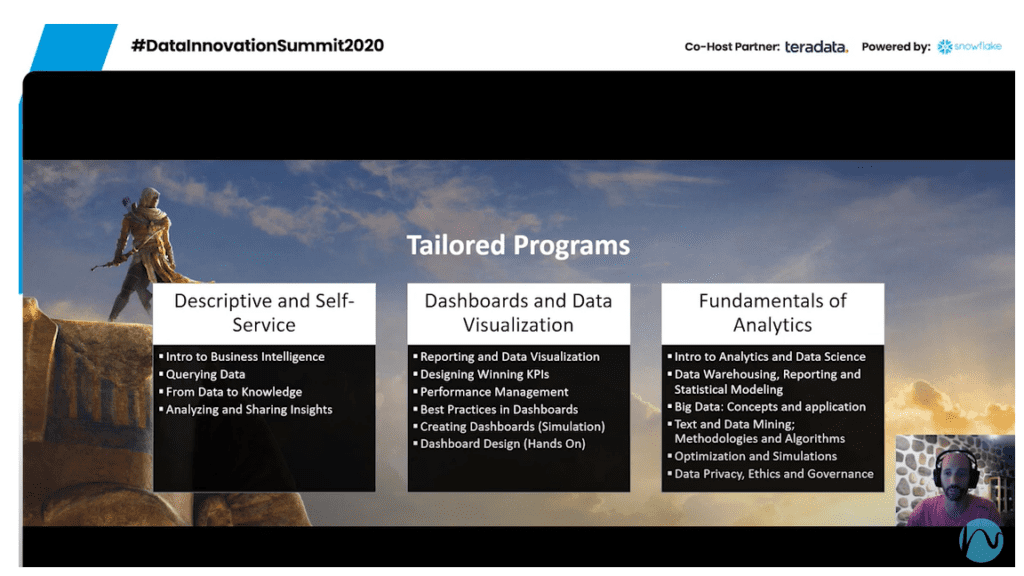 How can organizations know that they have achieved a certain level of data literacy and that the business is driving value from it? A simple way would be to measure Data Literacy across the organization. Such a measurement index has been done by Qlik with their Data Literacy Project.
"It is an Index that measures how ready you are for working with data, analyzing data and understanding data. For example, you have people that work with data for a long time, but they lack some skills in statistics, visualizing data, using certain tools, or it might be the communication of data and even asking yourself how to train yourself. This Index for enterprises gives you some indication of what to do if you want to do something.", explains Markus Rytkölä.
Additional Steps towards Data-Driven Culture
Eva Murray, Lead Evangelist EMEA at Snowflake, suggests these steps when building a data culture: to remove things that are not of service, focus on what truly matters and start collaborating around data. Organizations need common elements for data collaboration while building a data culture, and those elements are: a place where all of the data lives, flexibility to connect the tools, and the ability to scale and data people.
Among the things to eliminate when fostering collaboration and building data-driven culture, Eva Murray suggests the following:
Reduce wasted time – access data fast, no need to copy data, use a single source of truth across the organization
Remove data silos – access data in one single platform, govern, secure and revocable access
Reduce duplicated effort – collaborate on similar projects and ideas, work from a single copy of data
Among the suggested things to gain when starting collaborating on data is data innovation; solving faster by speeding up the time to insight and improving accuracy; and richer analysis that includes third-party data effortlessly in the analysis.
Key Takeaways
Organizations that are data literate make sense of the data they have. Becoming data-literate will provide people with the necessary resources, tools and capabilities for data-driven initiatives. Many methodologies exist for data-literate organizations, but they all require organizations to make changes.
Once organizations reach a phase when data literacy is spread across organizations and both leadership and management, and the people with different roles understand the data and use it for proper insights, actions and value realization, creating and maintaining data culture can start. That is an ongoing process, and collaboration is one of the steps that organizations must consider to develop or foster a data-driven culture.
Data democratization, creating value out of data, fostering data literacy and building a data culture will be some topics at the Data Innovation Summit in May 2023. Make sure you follow Hyperight.com and the event website for more updates.
---
Related content:
---
Featured image credits: Compare Fibre on Unsplash