What are the things you can't afford to miss from the 6th edition of the NDSML Summit?
This year's topic is "Towards Human-Centered Data & AI Innovation", and all of the attendees will have a unique opportunity to follow a program with a particular emphasis on ML Ops, Data Engineering, and Value Realization of AI.
This year the event will offer content to help organizations understand how to move from technology to a human-centred approach to data science and AI and how to push forward data science and AI projects into production. Organizations need to know how to make AI profitable and bypass the increasing challenge of preparing large-scale data for training models. The NDSML Summit event will provide the information required for this and, additionally, for creating the needed infrastructure for organizations to supply fast, reliable and easy-to-access data for advanced analytics and ML.
During the event, professionals and organizations that work with Data Science, Machine Learning, Data Engineering, and AI can hear the latest insights about technology advancements, current governmental investments in AI, innovations in the area, AI practical case studies with clear ROI, and much more.
Below are some highlighted features and activities that you can not afford to miss.
Three Event Stages With 40+ Speakers
Before sharing more on the event stages, what they will cover and who will present, we must mention that as Chairman of the event this year, we have Errol Koolmeister, Founder of The AI Framework. At the same time, we have an occasion to have excellent Keynote speakers that will deliver insightful presentations beneficial for everyone interested in the future of Responsible AI, MLOps platforms, operational AI Readiness, and using data without scarifying governance and security.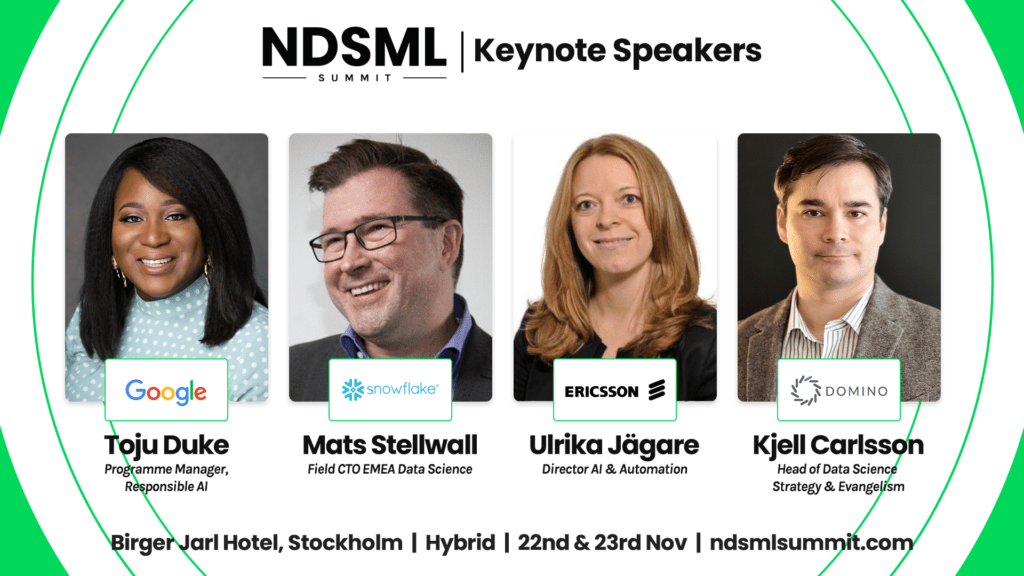 The event this year has three stages and over 40 speakers from the Nordics and other countries that will share their experiences and lessons worth learning.
The Chairman Errol Koolmeister will moderate the Strategy + Applied Analytics Stage. This stage is focused on strategies and processes to develop and manage highly deliverable Data Science and ML teams, as well as ways to make AI and ML projects profitable and ethical. Some of the companies presenting at this stage are: H&M Group, ICA, Vodafone UK, OLX Group, Uber and others, while among the presenters, we will have: Linda Leopold, Anna Baecklund, Ioannis Zempekakis, Serena Westra, Mikael Huss, and many more.
Machine Learning & MLOps Stage is moderated by Robert Luciani, AI & Data Advisor at The AI Framework. This technical stage is focused on utilising natural language processing, computer vision, graphs and more, and how to deploy, run and scale Machine Learning projects into production. Some companies that will present their journeys in this context are: Neo4j, Shell, Roche, Novo Nordisk, the National Library of Sweden (KB), Topdanmark, King, Dataiku, and ING. And some of the experts are already well known: Oswaldo Gomez, Busra Cikla, Kristof Neys, Love Börjeson and others.
Session and discussion at the Infrastructure + Data Engineering Stage will be moderated by Bjorn Hertzberg, Founder at Algorete. The experts and company representatives at this technical stage will focus on the tech stack, software infrastructure and ways to architect and implement on-premise, hybrid or cloud-native data pipelines and infrastructure to enable analytics and machine learning on rich datasets. Meta, Adevinta, Snowflake, Netflix, PayPal, Swedbank, and DNB Bank ASA are just some companies that will share experiences on the stage's topic. And among the experts that will present, we will have: Iker Martinez de Apellaniz, Trung-Duy Nguyen, Benjamin Tapley, Keenan Lyon, Shivam Bharuka, and others.
Trending Panel Discussions
There will be two panel discussions at this year's NDSML Summit.
The first panel discussion is on "Advisory board: Harnessing the full power of Data Science, ML & AI Functions – Overview 2022", and participating panellists will be:
Errol Koolmeister, Founder at The AI Framework
Anders Arpteg, Director of Data Science at Swedish Security Service
Daniel Tidström, Partner & Management Consultant at Data Edge
Robert Luciani, AI & Data Advisor at The AI Framework
The second panel discussion will be on "Harnessing the full power of Data Science and ML Functions – Trends, Challenges and Opportunities" where views will share:
Salla Franzén, Data & Analytics Manager for the Customer Domain at IKEA Retail (Ingka Digital)
Alberto Barroso, Global Head of Decision Science at Tetra Pak
Kjell Carlsson, Head of Data Science Strategy & Evangelism at Domino
The After Work Data Science Party
For the first time we will organize the Data Science Party of the Year at Nalen, the iconic venue in the centre of Stockholm that dates from 1888 and that is known for its concerts and events through decades. Four artists will contribute to the informal networking of the professionals from the Data Science and ML community: Dj Nasiri ft. Le Nomade, Dj Niklas and Dj Martin Natanael.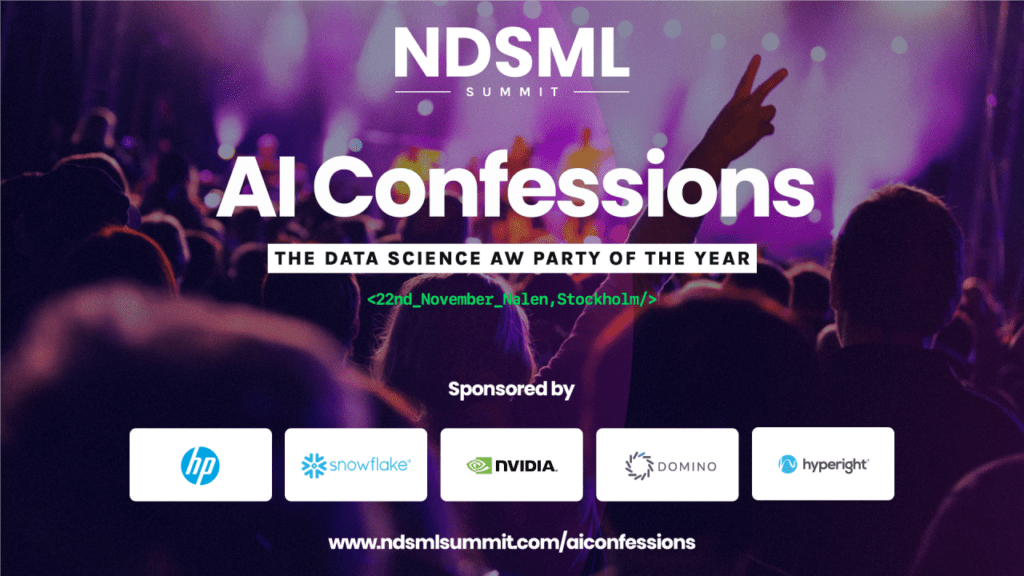 Follow the event's social media channels for more information and updates about the NDSML Summit: