When engineers develop AI solutions, external factors are often not considered. Many experts that have observed this, propose a more holistic perspective when data scientists, product managers, and decision-makers approach the technology.
One solution for overcoming the potential risk of developing AI solutions in isolation is the so-called AI-by-Design, developed by Ioannis Zempekakis, Global Head of AI at OLX Group and Serena Westra, Co-founder & Sr. Strategic Experience Designer at AI-by-Design.
The AI-by-Design approach consists of six steps for building Human-Centred AI solutions. Most importantly, it emphasises the importance of investment in technology and the importance of trust for effective AI solutions, the significance of collaboration between different teams, and the data available to those teams.
We hope this interview will offer insightful information for the organisations and individuals regarding the AI-by-Design approach for building Human-Centred AI solutions. You will have a chance to hear more on this topic at the upcoming NDSML Summit in November. Make sure you follow this and other insightful sessions at the event.
Hyperight: Can you please tell us more about you? What are your professional background and current working focus?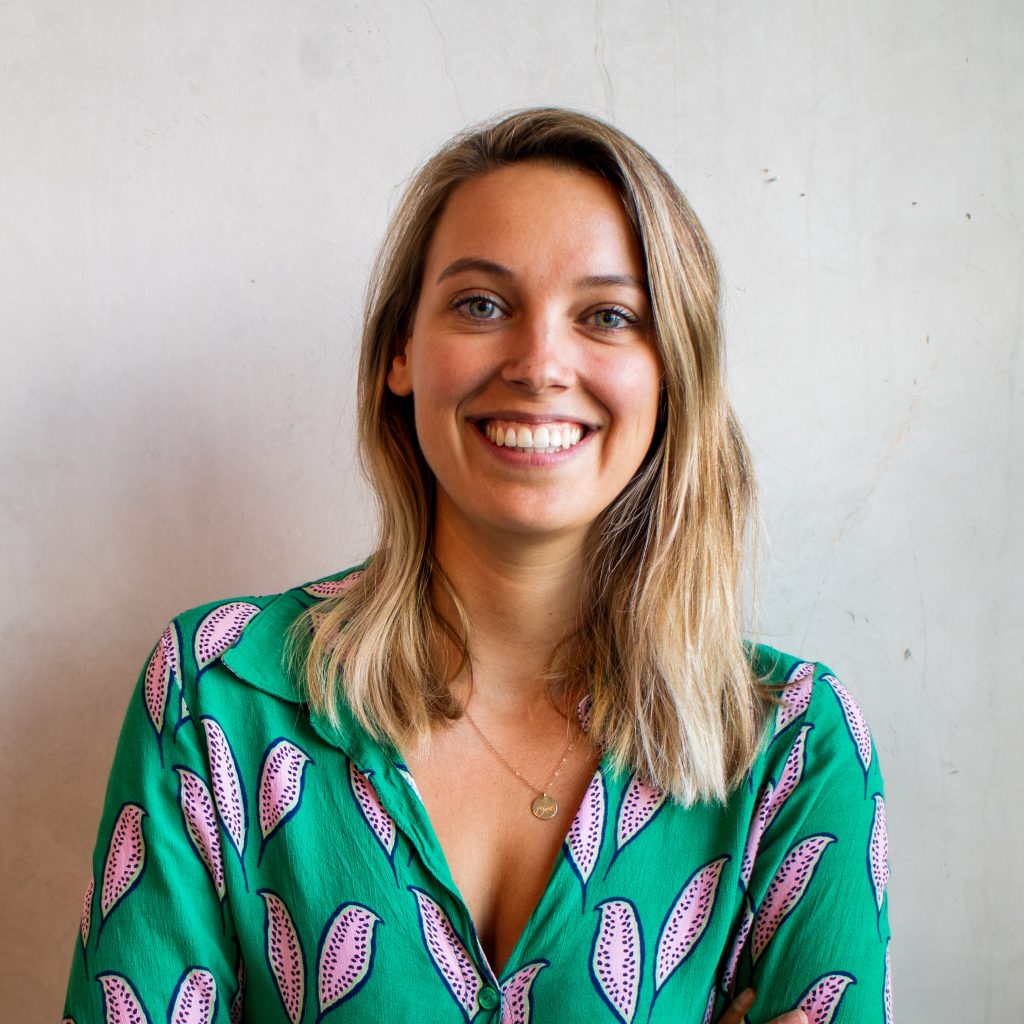 Serena Westra: I am probably an odd one out on the NDSML Summit, since I don't have a background in engineering or computer sciences, but in design and sociology. I am fascinated by the intersection of human needs and technology. It is my mission to design products and services that have a positive impact on humans, are ethical, and work. I have done this for many years as a Service Design Consultant for various international companies.
For the past year, Ioannis and I collaborated on a 6-Step approach for building Human-Centred AI solutions, which we call AI-by-Design. Currently, I work as a Senior Strategic Experience Designer at IKEA Digital. Through various design and research methods, we envision and design future-state digital experiences that our customers and coworkers want. One important question is: what is the role of data and AI? And how can teams within the organisation collaborate to build solutions? More info on my professional background can be found here.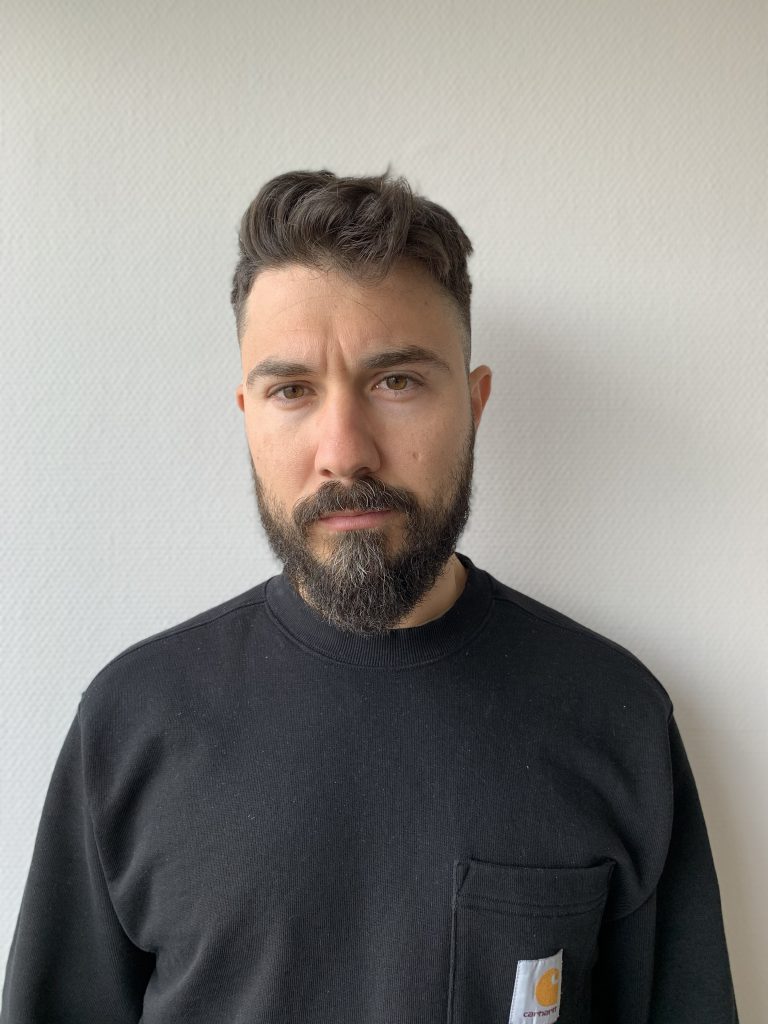 Ioannis Zempekakis: My studies in economics and econometrics may have influenced my desire to approach technology and modeling from a more holistic perspective, taking into account all the social externalities of our models. The computational part of modeling also intrigued me, and I researched optimization with neural networks (Ph.D.). Later in my career, while leading different teams, I realized that most engineering teams do not approach AI solutions as part of a larger product or service offering.
Engineers typically develop AI solutions without taking into account other factors in the environment. Based on that, we decided with Serena to work together to create a framework that we call AI-by-Design. Today, I lead the Global AI team of OLX Group. I focus on scaling critical horizontal ML operations within the group, developing AI governance frameworks, leading the development of the ML platform, and identifying potential opportunities to apply AI.
Hyperight: During this year's NDSML Summit, you will share more on "AI-by-Design: A 6-step approach for building Human-Centred AI solutions". What can the delegates at the event expect from your presentation?
Serena and Ioannis: We aim to provide a few actual examples of what we did wrong and what our learnings are from applying AI in different cases. We want to motivate data scientists, product managers, and decision-makers to understand the risks of developing AI solutions in isolation and some key steps someone can follow to avoid some of the mistakes we made.
Hyperight: For a couple of years, companies and practitioners have been discussing the importance of designing Human-Centred and Ethical AI solutions. What is your interpretation of Human-Centred and Ethical AI Solutions, and why is this important when developing AI products and systems?
Serena and Ioannis: The concept of Human-Centred AI refers to systems that consider human needs before empowering and augmenting them. Considering the dynamic and probabilistic nature of AI systems, it is imperative to design a holistic approach that proactively identifies biased AI systems. When it comes to ethical artificial intelligence, AI systems learn from data from the past and make predictions, often propagating the biases that already exist in the data. Furthermore, AI systems are often entrusted with automating important decisions such as credit scoring and job applications. The design and development of solutions should therefore respect ethical principles and values, and any existing discrimination in historical data should be removed.
Hyperight: What are the main challenges organisations face when approaching ethical and Human-Centred AI, and more specifically, what are the obstacles they come across when applying AI-by-Design?
Serena and Ioannis: Developing effective AI solutions begins with investments in technology, the first barrier most organisations encounter. The major impediment, however, is the lack of trust in the solution developed and the lack of collaboration between different teams (silos). Last but not least, data is very important. There is no denying that data in the modern corporation is scattered and dirty. For ML models to be developed, the primary layer requires time, investment, and collaboration among teams.
Hyperight: How do you define AI-by-Design, and what are the benefits of such an approach?
Serena and Ioannis: In our view, AI-by-Design is a human-centered, iterative, and collaborative approach to AI innovation. The process leverages a designer's approach to problem-solving (empathy with the user) and applies divergent and convergent thinking to define the problem and solution space. As such, AI-by-Design takes a holistic approach to solving the right customer problem in an ethical, consistent, and unbiased manner (solve the right problem).
Hyperight: In your speech, you propose a 6 step approach to building Human-Centered AI Solutions. Can you guide us through the 6 steps?
Serena and Ioannis: Our framework takes inspiration from the widely renowned Double Diamond design approach presented by the Design Council. We overlay the Double Diamond with the CRISP-DM data management approach and extend it to cover specific challenges dealing with AI innovation. In more detail, we have defined the following steps:
1. Discover: The first step aims to understand the project's goal, customer needs, problems, and business opportunities. It usually involves customer research.
2. Define: In the second step, the team defines the challenge scope; they select a problem to solve, or an opportunity to pursue. This step includes researching the context and AI possibilities.
3. AI-by-Design decision: In the third step, teams are encouraged to ask themselves if this is a problem that AI is required to solve. If yes, assess which data is needed, and research if the solution might have unethical consequences. If AI is not the right solution, this is also a great outcome. AI is expensive and time-consuming.
4. Develop: The fourth step is understanding how we can solve this problem. Now is the time to explore different solutions and study the data. Data scientists can do exploratory data analysis (EDA), which involves analyzing the data to find outliers, missing values, and a way to develop a baseline model.
5. Test: In the fifth step, the team should test the assumptions before committing to build and deploy the solution. Creating a quick (data-driven) prototype to test desirability is important. Prototypes are the fastest way to determine if the solution is worth building and committing resources to it or pivoting.
6. Deliver and Evaluate: As the final step, the team should iterate, refine, and deliver the solution. However, the team must iterate over the solution continuously. With more time, more data will become available to illuminate the solution. A monitoring system (feedback loop) is required to capture and cross-correct real-life biases and data drifts.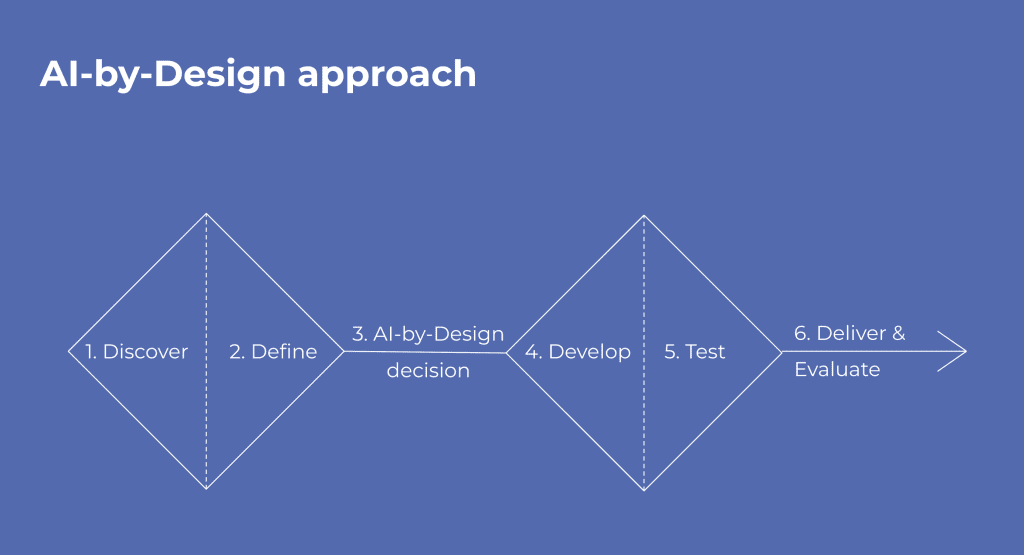 Hyperight: What would you say are the most crucial steps and why?
Serena and Ioannis: The most important step is to start with customers. By understanding the pain points and needs of the end users in detail, the team can experiment with a variety of tools and possible solutions. This will enable them to determine if AI will empower end users and how to design a long-term solution that will improve the solution.
Hyperight: You mentioned that one of the key benefits of the approach is building a guideline for solving the right problem in the right way. What do you mean by that?
Serena and Ioannis: Our goal was to find an approach that could equally cover both aspects of AI system design. Practically, it means identifying the right problem (solving the right problem) and designing upfront how to build trustworthy and resilient AI (feedback loops, explainable and unbiased) that can empower humans to use it correctly.
Hyperight: How important is collaboration and transparency between AI teams and Domain Experts when building human-centred, ethical AI systems that positively impact the company and the customers?
Serena and Ioannis: Successful development teams are characterized by multi-functional teams that work together and have developed a common language of basic concepts. This will result in teams that are able to work together to combine the different factors that make up a successful AI product, such as its desirability, feasibility, and viability.
Hyperight: What are your final recommendations for organisations or individuals in an organisation to start experimenting with AI-by-Design? What should they pay attention to? How to get interested, motivated and inspired to experiment with AI-by-Design?
Serena and Ioannis: We have included a few key takeaways in our paper, but if we have to choose what we think is the most important, we would consider the following:
1. Start with customer needs. Define the problem before working on the solution. Otherwise, you might build a solution that nobody wants to use.
2. Make a conscious AI decision. Not every project can and should involve AI. Assess the difficulty, costs, and ethical side of it before committing.
3. Design for trust. Transparency, explainability, and unbiasedness are necessary ingredients to earn the trust of your users and improve the customer experience.
4. It takes time, so start exploring AI today. It takes time to mature into an AI-by-Design organisation. Start now to pave the way for future AI.
If you want to hear more on this topic, join the talk by Serena and Ioannis at the NDSML Summit on Tuesday 22nd of November at 17:10 in Stockholm or at the event platform Agorify.
---
Featured image credits: Dylan Gillis on Unsplash