It's a wrap of another fantastic edition of the Data Innovation Summit. This year, to the feeling of being honoured and proud for organizing this event, contributed:
The interest of delegates to register for the event. Over 2100 people followed the event onsite at Kistamässan in Stockholm, Sweden and online at Agorify.
The great lineup of about 200 speakers and the best experts in the field of data, analytics and AI. They shared their experience and best practices with the audience.
The support and presence of about 80 exhibitors and progressive and innovative organizations globally, showcasing some of the best data-driven innovative projects, products, business ideas and technologies.
The curiosity for continuous improvement, contribution, and networking that was expressed during over 200 presentations, eighteen workshops, close to 150 demos, and many panel discussions.
The list of reasons that added to our positive impressions is never-ending for us. Since we want you to have the same idea, we'll try to highlight some of the key takeaways from this year's edition of the Data Innovation Summit, which lasted two days and was all about "Towards Human-Centered Data and AI-Driven Innovation".
1. Excitement for In-Person Edition Expressed by the Data and AI Community
"We must be better at coming closer to value, coming closer to the business of worth. I think the real data and AI brainpower in Europe are in this particular room. Thank you for being here.", said Henrik Göthberg, Founder of Dairdux and Chairman of the Data Innovation Summit.
During the two-day event, he emphasized the importance of making value out of data and AI evenly distributed in companies, countries, regions, and society. He also pointed out that organizations need to learn to adapt, mostly by learning from others.
"The key message is harvest and reuse. That is the core mechanism to deal with adaptation, and ultimately to do this at scale.", added Göthberg.
According to the Founder and CEO of Hyperight, Goran Cvetanovski, this year and this edition of the Data Innovation Summit brought the community back after challenging years of working remote and apart from each other.
"When we started this, it was a small event of 273 people, and it grew up to what it is today. But not because of us. We are just facilitators of the community and your intention to meet. To have an event of this proportion means that the community has grown.", said Cvetanovski.
What were the most trending topics at the informal chats at the networking gatherings after presentations and according to the online expressed impressions of the delegates? From what we could spot:
-Data mesh is a burning topic
-Data democratization is more and more present in discussions
-Data catalog had an essential portion in the chats
-How to bridge the gap between IT and business teams is occupying the dialogue
-How to adopt from others' data journeys is still questionable
-Centralized or decentralized data is still a critical dilemma
-Cloud is the place to be
-Bias data is at the highest level in the debates etc.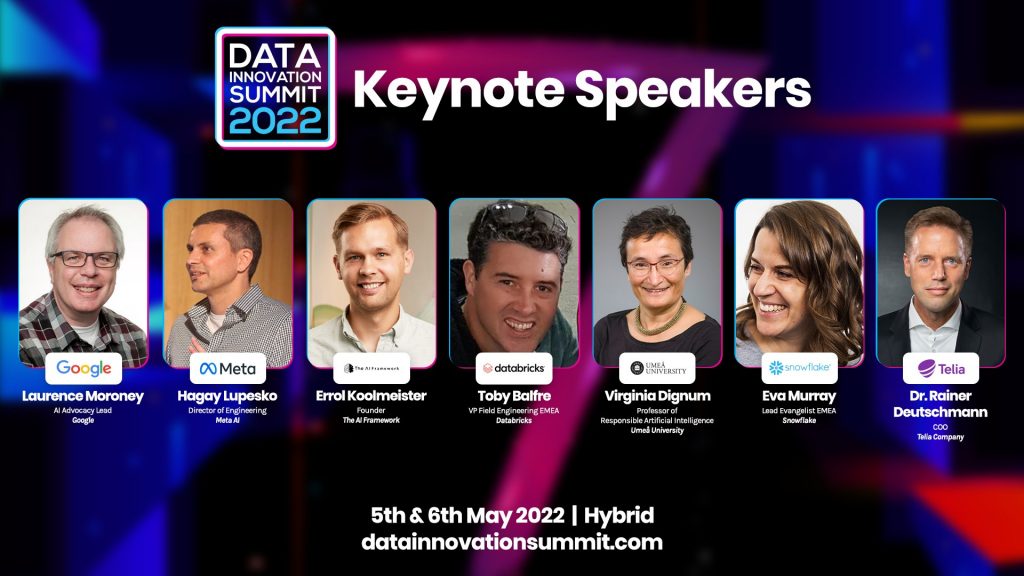 2. Trends and Visions That Can Be Heard Only the Event Like This
When we mentioned some trending topics, we must say that we had such a privilege to have excellent keynote speakers this year that dived deeper into those trends.
Some highlights from the Keynote Speakers on the first day of the event:
Laurence Moroney, AI Advocacy Lead at Google, spoke on the work he is doing around widening the access to AI, building a developer community that will change the world with AI and ML, and explored strategies used in making AI approachable in that community. "We are ecstatic to see that there are millions of developers coming online with skills in AI and ML, and it's those people who will build the world of tomorrow. It is our job, vision, goal, dream and wish to make sure it is a good one.", said Moroney.
Eva Murray, Lead Evangelist EMEA at Snowflake, shared how data collaboration becomes an opportunity for businesses, competitive advantage and transformational change. She also shared how technology enables professionals worldwide to work together to achieve better outcomes with data. "I think that the opportunities for data collaboration are huge and important.", added Murray.
Hagay Lupesko, Director of Engineering at Meta AI, talked about the journey of Deep Learning over the past decade, the rapid progress and the enormous value delivered. After that, he introduced a new concept and chapter on Deep Learning – the Foundation Models. "It is an exciting and emerging paradigm in AI that offers opportunities and challenges for implementing AI in an enterprise.", said Lupesko, who added practical recommendations on how organizations can leverage Foundation Models.
Some highlights from the Keynote Speakers on the second day of the event:
Errol Koolmeister, Founder of The AI Framework, spoke about the innovation cycles in the world, their dynamics and why companies should start to see the impact of this change. According to the latest studies, 92% of large companies achieve returns on their data and AI investments. "Those companies that will not adopt AI and data-driven ways of working will lag behind. The key challenge is that the adoption of AI could widen gaps among countries, companies and workers.", emphasized Koolmeister.
Toby Balfre, VP Field Engineering EMEA at Databricks, introduced the data lakehouse concept and architecture. He also described the benefits of the data lakehouse and how data teams can leverage it for data engineering, analytics, data science and machine learning. "Some of the lessons we found in the companies that have been truly most successful with data and AI led us to the development of what we call the data lakehouse.", added Balfre.
Virginia Dignum, Professor of Responsible Artificial Intelligence at Umeå University, shared more about how we can move from principles and nice words to real Ethical and Responsible AI. She presented how much regulations, standards and awareness were increasing and said: "Responsible AI is making sure that as we develop the AI system, as we use and integrate AI applications in our daily lives, we need to take care of the issues of accountability, responsibility and transparency = ART in one short word."
Dr. Rainer Deutschmann, COO at Telia Company, explained the pillars that enabled Telia to transform into an AI and data-driven company, from data-driven decisions to operations and end-customer experiences. "We are driving the company into 100% data and AI-driven operation. This is the only way to go forward. This is how we can be successful and fast enough in the ever-changing world.", said Dr. Deutschmann.
3. Topics That Bring Value of Data and AI at Scale
This year, the Data Innovation Summit had eight parallel tracks that provided a stage for the expression of outstanding experts from the most innovative AI and data developed companies. Which ones?
Machine and Deep Learning Stage is about presentations on deploying Machine Learning, Deep Learning, Natural Language processing, Generative Adversarial Network, Transformers, and Artificial Intelligence in projects. Some of the companies and names that shared their success stories on this stage were: David Meza, AIML R&D Lead at NASA; Sara Lejon, Project lead at Save the Children; Wouter Oosterbosch, Chief Data Scientist – EMEA at IBM; Dexter Fichuk, Developer at Shopify; Hedvig Kjellström, Principal AI Scientist at Silo AI; Jonas Grunditz, Senior Data scientist at H&M Group and others.
Data Engineering Stage is a technical track focusing on agile approaches to designing, implementing and maintaining a distributed data architecture to support a wide range of tools and frameworks in production. Some of the companies and names that shared their success stories on this stage were: Max Schultze, Data Engineering Manager at Zalando; Krzysztof Słowiński, Data Engineer Consultant at Kodlot; Oswaldo Gomez, Senior IT MLOps Engineer at Roche; Matt Vogt, Vice President – Global Solutions Architecture at Immuta; Linus Wallin, Technical Product Owner, Data engineer at Husqvarna; Anders Nyman, Engineering Manager at Spotify and others.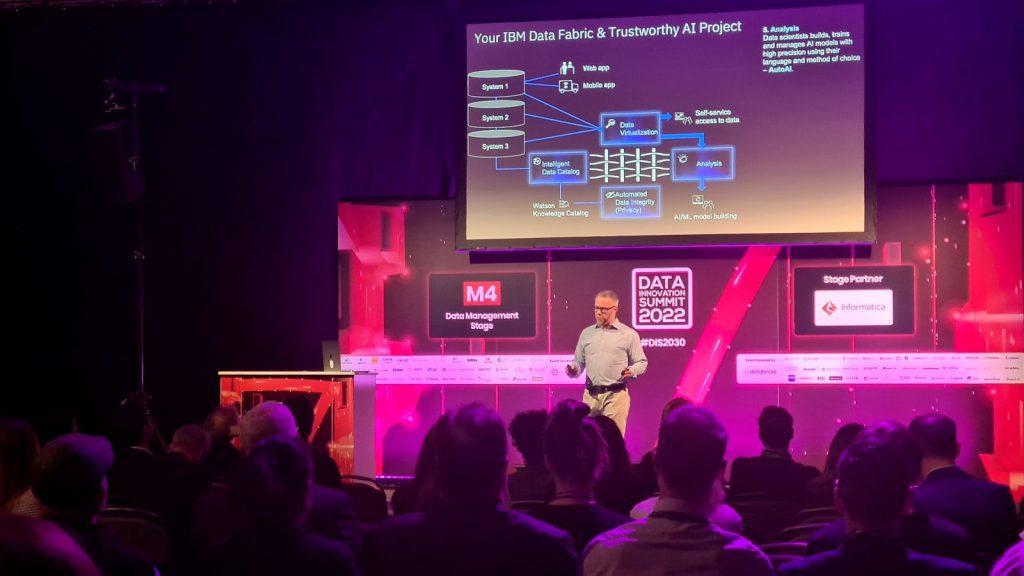 Cloud Computing and Analytics Stage is focusing on leveraging cloud computing and analytics in the cloud. This year's focus is on cloud economics, cloud management, architecture, hybrid and multi-cloud setup. Some of the companies and names that shared their success stories on this stage were: Markus Reimegård and Simon Whelan from Swedbank Group; Martin Clough and Adarsh Mahesan Shyna from Nordea; Miguel De Luna, Senior Product Manager Data Analytics at Google Cloud; Josefine Boqvist, Head of Platforms Analytics & MarTech IT at Telia; Daniel Melin, Strategist at Swedish Tax Agency (Skatteverket); John Thomas, Solution Architect at ICA Gruppen and others.
Data Management Stage is focusing on leveraging data as an enterprise asset and ways of collecting and distributing quality data, while protecting privacy, usage restrictions and data integrity. This year's focus is on the Data Fabric, Data & Information Governance, Big Data quality, Data Mesh, Data Foundation, master data, warehousing, Data Lake, and much more. Some of the companies and names that shared their success stories on this stage were: Lotte Ansgaard Thomsen, Lead Data Architect at AI Solution at Grundfos; Daniel Engberg, Head of AI, Data & Platforms at Scandinavian Airlines; Jacques Vosloo and Dr. Maria Papastathi from Shell; Paul Dietrich, AVP DACH & Nordics at Collibra and others.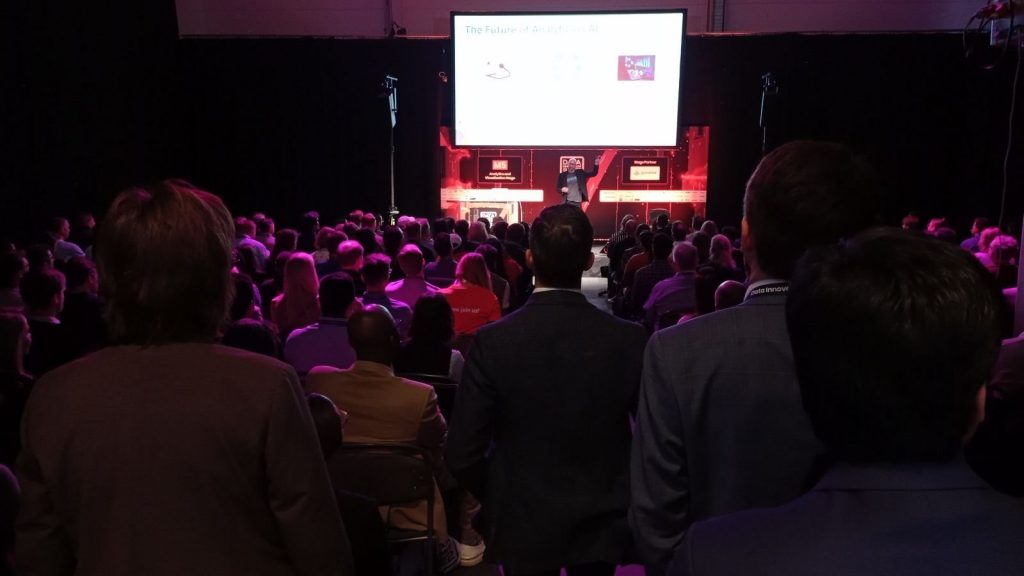 Analytics and Visualisation Stage this year focused on the latest methodologies of turning real-time data from multiple sources into insight, Self-Service BI, Visualisation of data, Prescriptive Analytics, and much more. Some of the companies and names that shared their success stories on this stage were: Matthias Stahl, Deputy Head Graphics and Interactive at DER SPIEGEL; Peter Jönsson, Principal Solutions Engineer at Tableau Software; Daphne Cheung, Data Scientist at The Walt Disney Company; Maria Ana Amaral Liz, Head of Data and Analytics Self Service at Ericsson; Rik Van Bruggen, Regional VP at Neo4j; Linda Rothan-Cederberg, Analytics & Data Manager at Electrolux, Naveed Ahmed Janvekar, Senior Data Scientist at Amazon and others.
Applied Innovation and AI Transformation Stage the first day focused on applied analytics to enhance customer experience, improve business processes, reinvent business models, and create new ones. The second day the focus was on AI Transformation and how organisations shift to algorithmic business. Some of the companies and names that shared their success stories on this stage were: Noelia Gonzalez, Manager EA Loc Analytics at Electronic Arts; Tonia Sideri, Head of AI and Analytics CoE at Novo Nordisk; Kim Næss, Subject Matter Expert – AI & IoT – Digital Innovation ICT at Norwegian Research Council; Greg Elkehag Funk, Chief Product Officer at Epidemic Sound; Shaun McGirr, EMEA Director of AI Strategy at Dataiku; Robert Valton, Head of Center of Excellence (CoE) Advanced Analytics & AI at Volvo Group Connected Solutions and others.
Industrial Analytics and Digital Twin Stage was a new track dedicated to strategy and technical case studies on how heavy asset organisations and manufacturers can develop and use machine data and application-oriented AI applications to improve operational processes, detect and classify anomalies, thereby effectively reducing downtimes and optimizing production and everyday operation. Some of the companies and names that shared their success stories on this stage were: Tal Katzav, Manager, Machine Learning & Advanced Analytics at Wärtsilä; Richard Henderson, Director of Pre-Sales EMEA at TigerGraph; Marko Yli-Pietilä, Head of Smart Operations at Stora Enso; Sean Lang, Data Strategist at Altair; Søren Vind, Senior Engineering Manager at Maersk; Iiris Lahti, Founder of AI Roots and others.
This year there were brand new stages:
AI Ethics & AI 4 Good Open Stage focusing on AI ethics including explainable AI, transparency, bias control, best example of use of AI for good and much more.
On Rise – Nordic AI Startup Stars Open Stage featured some of the most innovative AI Nordic Start-up companies that had the opportunity to present their innovative products and services built on top of the latest data, analytics and AI technologies.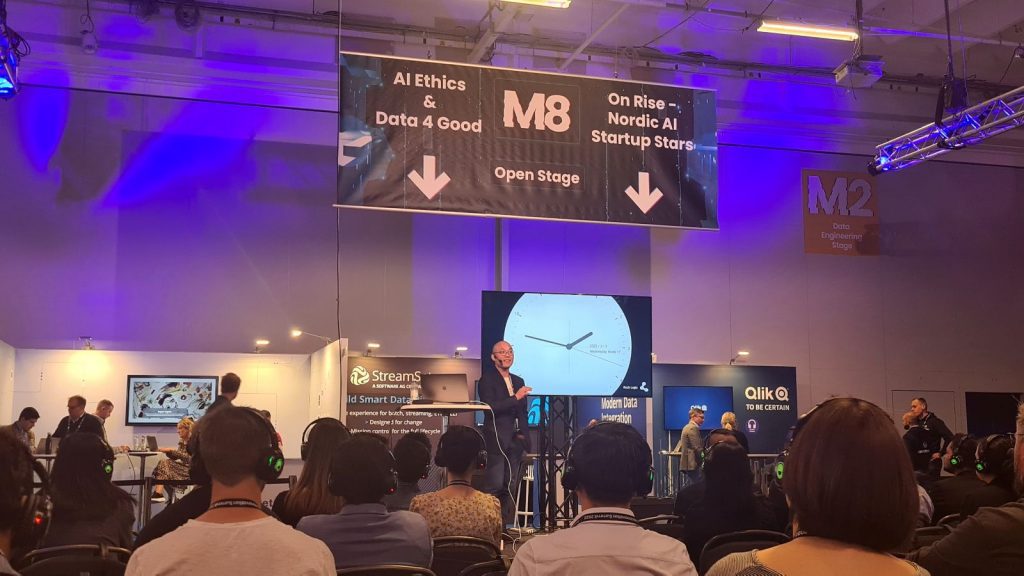 4. Insights From Data Octagon
This live-streamed program this year also provided an insight into data practices, trends and challenges. We had super exciting panel discussions, and product reviews prepared to offer you an overview of the latest technological breakthroughs.
"This field is growing like very few people predicted. We see technologies coming to their right and starting to produce the value of becoming mature. It is no longer an exercise for the nerds that unwillingly are working together with the business. Some terms popped up here, which will become a reality in a few years. My predictions are: graphs and geometrics are going to become big in 1 to 2 years, in terms of technology are the hybrid solutions and foundational models or, in computer words, models that can do more than one thing, and this will divide organizations between those that know how to capitalize this and those that don't ", says Robert Luciani, Senior Data and AI Adviser at The AI Framework, who was facilitating the Data Octagon programme.
Subscribe to Hyperight YouTube channel to check what was going on at this year's Data Octagon:
Day 1: https://youtu.be/gHtPMHgelio
Day 2: https://youtu.be/V2joJ-H2w80
5. Announced New 100 Names for Contribution in Data, Advanced Analytics and AI
At the Summit, we promoted the 2022 Hyperight Nordic 100 list, featuring data, advanced analytics and AI practitioners dedicated to supporting the data community and accelerating the Data and AI innovation capabilities in the Nordic region.
IIt is becoming clear that these 100 names are increasingly challenging to select since the number of experts has been rapidly growing through the years. Most importantly, their contribution and achievements are numerous and crucial for transforming and developing organizations, countries, and the region itself.
You can find the list here.
6. Content That Is Available On-Demand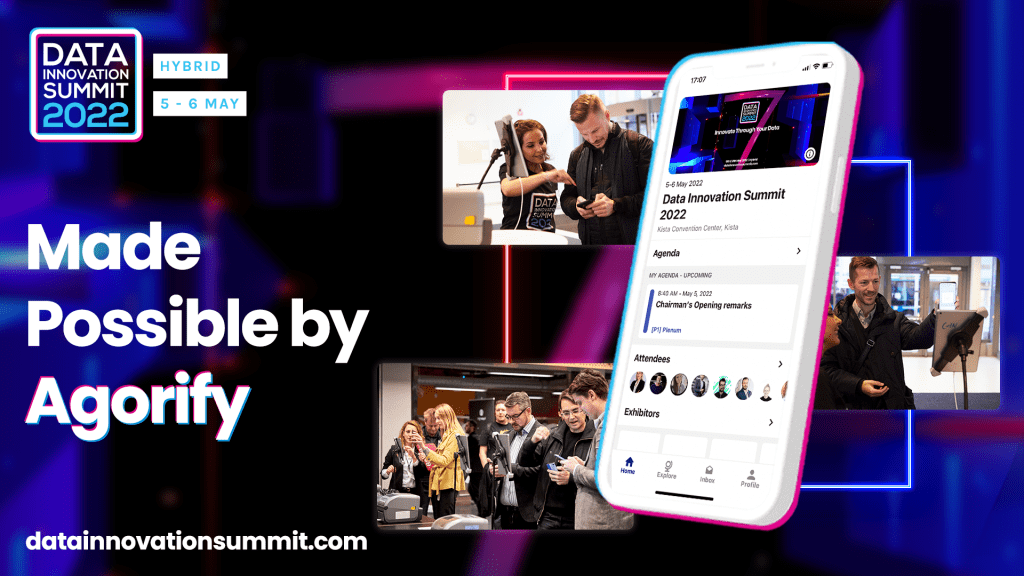 Since the previous online edition of the Data Innovation Summit, we saw the benefit of our online presence, so we decided this edition to be hybrid and make the most significant event in the Nordic region focusing on data and AI even broader. This concept, this time, brought our onsite speakers closer to our online audience, but at the same time, many of our remote speakers could share their expertise with the onsite delegates.
Anyone interested in the Summit can tune in to the Agorify application, revisit all the presentations, and still comment, ask questions, continue the discussions, or forge new contacts. The content will be available for the next five weeks, so make sure to seize that opportunity.
7. More Benefits by Attending This Event
Data Innovation Summit is the most influential event for data, analytics and AI in the Nordics and beyond. It is the only place where you will find hundreds, if not thousands, like-minded, experienced, highly passionate practitioners and experts working on similar challenges, practitioners ready to share their knowledge and experience.
The event is all about—accelerating Data and AI innovation by acting as a platform for knowledge and experience sharing between practitioners, companies, industries, sectors, countries and regions. It is an excellent opportunity to learn and meet peers from other organizations, industries, and sectors in the Nordic and beyond.
By attending this event, you will have the chance to get an insider view of the latest developments in Data Science, Machine Learning, Data Engineering, Analytics, Cloud Computing, AI and much more. So, while we are already working on next year's edition of the Data Innovation Summit, don't forget to:
Learn more about the event itself by visiting the website of the Data Innovation Summit
Visiting Hyperight website for other upcoming events that you may want to be part of
Register or nominate a future speaker at the event that Hyperight organizes
Visit our social media channels for more insights