Towards Intelligent and Empowered HR is the topic of the fourth edition of the Nordic People Analytics Summit. This event is a platform for a community of practitioners to share experiences on improving HR practices, accelerating data and AI transformation in HR, and making People Analytics a significant portion of that. According to the 2021 The Josh Bersin Company report "Impact of Advanced People Analytics on Outcomes", 83% of the companies still do not use advanced People Analytics in their HR Practices. Because of this, when everything is being challenged – the workplace, the labor market, employees' values, the decision-making of the leadership and management – the investment in People Analytics should also be.
On the 17th and 18th of May, Stockholm is the place where you can hear the trends in People Analytics and data and AI-driven HR. This article will present some of the names that will deliver essential sessions for all like-minded professionals.
Strategy & People Analytics Deployment
How can People Analytics provide insights to bridge the discussions with the Management, Finance and Strategy team and at the same time support the change management process by ensuring clear and consistent communication? Find out in the presentation by Maria Norris, Head of People Analytics at Telia Company. She will speak more about how Telia has harnessed People Analytics to add business value in the Digital transformation. We expect that this session will provide insight into uncovering the drivers for business impact.
Another successful journey of the People Analytics solution is the one of LEGO Group. The story about it will be told by Matias Hviid, Manager, People Analytics & Strategic Workforce Planning and Christian May, Business Analyst People Analytics & Insights at The LEGO Group. Part of this story is their experience partnering with stakeholders within and outside HR to deliver insights on-demand and at a scale that drives business outcomes.
One interesting topic for the challenging times in the workforce is the one addressed by Kevin Erikson, Head of Talent and Workforce Insights at Novartis. He will present "Retaining Talent during the Great Resignation" and explain how Novartis used data-driven techniques to identify and quantify retention drivers when faced with increased employee turnover in critical talent cohorts.
What is with those organizations that haven't set up a People Analytics function? How to start from zero and set up the People Analytics function will be shared by Jessica Hosking, HR Data Insights and Reward Manager at The Financial Times.
Advanced People Analytics & Data Management
Talent Intelligence is an emerging field. But it is different from People Analytics. How do these two terms and professions differ, and where do the teams collaborate? Answers will be provided by Sam Fletcher, Head of Talent Intelligence at PayPal. In his presentation, he will explain the importance of Talent Intelligence for organizations and how to gain a competitive advantage with it. He will share advice and recommendations on how organizations can start with this.
A critical topic for People Analytics is Privacy and Ethics. Everyone who will participate at the Nordic People Analytics Summit will be privileged to hear more on this by Anna Horvath, Director and Head of Compensation and Benefits at ASSA ABLOY. She will share how organizations can comply with General Data Protection Regulation (GDPR) and other data protection requirements in practice and reduce the risk. 
For Natural Language Processing (NLP), there is a growing interest in the analytics community. It significantly impacts the HR and People Analytics domain. It enables the transformation of unstructured data into valuable insights with more incredible operational speed and accuracy to support organizational decision mechanisms. In her presentation, Büşra Çıkla, Data Scientist at ING, will address NLP use cases in HR field and how to build end-to-end NLP models (topic and sentiment model) on survey data to get insights from the employee feedback continuously by touching on each stage of the model life cycle.
Knowledge graphs and graph data science algorithms can be used to enhance your People Analytics capabilities and data-driven decisions. David Meza, AIML R&D Lead – Sr. Data Scientist People Analytics at NASA will explore this topic. He will also tell how to extract information from documents and map the workforce to skill sets to enrich the knowledge graph through NLP and graph data science methods, providing insights on career planning, skill alignment, training paths, etc.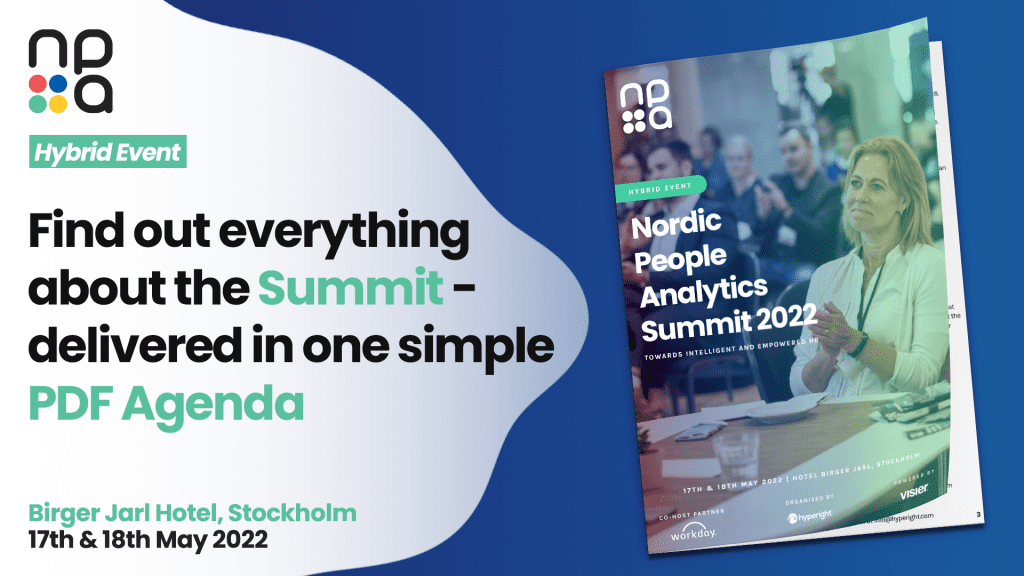 Applied People & Workforce Analytics
Improving employee experience and engagement, improving the employee learning pathway, and recommendation engines for learning platforms to maximize employee experience, are just some of the learning points from the presentation by Muge Guclu, Senior Data Scientist and Yuyu Zeng, Data Scientist at Shell – The Netherlands. These learnings will be delivered by sharing several use cases. 
Accelerating diversity, equity and inclusion through the use of data is another vital topic that will be addressed at the event, this time through the journey of Grundfos and the presentation by Jacob Nielsen, Senior People Analytics Specialist.
Trends and vision in data-driven HR and People Analytics
Several panel discussions at the Nordic People Analytics Summit will unfold many trends and visions. For example, what the future of work will look like and the role of People Analytics in that,  how businesses can achieve impact with People Analytics, what are the macro labour trends etc.
"I foresee two trends, challenging the boundaries of PA, one is remote/hybrid working. Organizations cannot rely on a meagrely 6 monthly employee engagement survey, they will need to come up with more Predictive Analytics on what keeps their employees happy and connected. The supply/demand situation for Talent is yet to see its peak, organizations will need to invest in Internal Mobility, hence Analytics on available capabilities, future gaps and how to upskill the gap will become crucial.", says Manjuri Sinha, Global Director of Talent Acquisition at Olx group.
Another field where People Analytics has a significant role, according to her, is solving the challenge of a distributed workforce.
"Connecting the dots between workload, burnout, productivity, attrition, all this will be needed for any leader to succeed and create a cohesive culture in their teams. For example, if there is a dashboard to tell me, based on some factors, what times would be best for a team meeting for my distribution, that would be setting me up for success.", adds Sinha.
We hope this was inspiring enough for you to get interested in the event, which has the well known Stefan Sander Grods, People & Culture Partner at MobilePay, as a Chairman at the Nordic People Analytics Summit 2022, and the following Keynote speakers:
Rich Bye, VP HCM Product Strategy EMEA at Workday, who will speak on incorporating new and old ways of working to solve problems that we do not even know exist yet.
Anna Gullstrand, Chief People & Culture Officer at Mentimeter, who will share more about why it is important to understand the employees' needs, to be data-inspired and not data-driven, and to put the employee and the candidate in the centre of innovation.
Ian Cook, Vice President – Analytics at Visier who will explore how to evolve your people analytics function from serving a few experts to enabling thousands of users across HR and people managers (up to the C-Suite) with answers to business questions on-demand and at scale.