Diversity in data is one of the core topics of discussion at the Nordic Women and Data Summit on December 3rd in Stockholm.
In the month leading to the second edition of the event that brings together women data practitioners to discuss accelerating data and AI innovation in the organisation, we talked to our speakers on the subject of diversity and the importance of initiatives that encourage more female engagement in the tech and data fields. But we also asked them about their personal experience and decision to start a career in data.
First, we have Maria Ovchinnikova, the Founder and CEO of WomenHackCPH. Her session at the summit will cover the results and takeaways from the first women hackathon event in the Nordics. At the same time, she is a Data Scientist/Project Manager at Novo Nordisk, with a background in applied and computational physics with some experience within machine learning.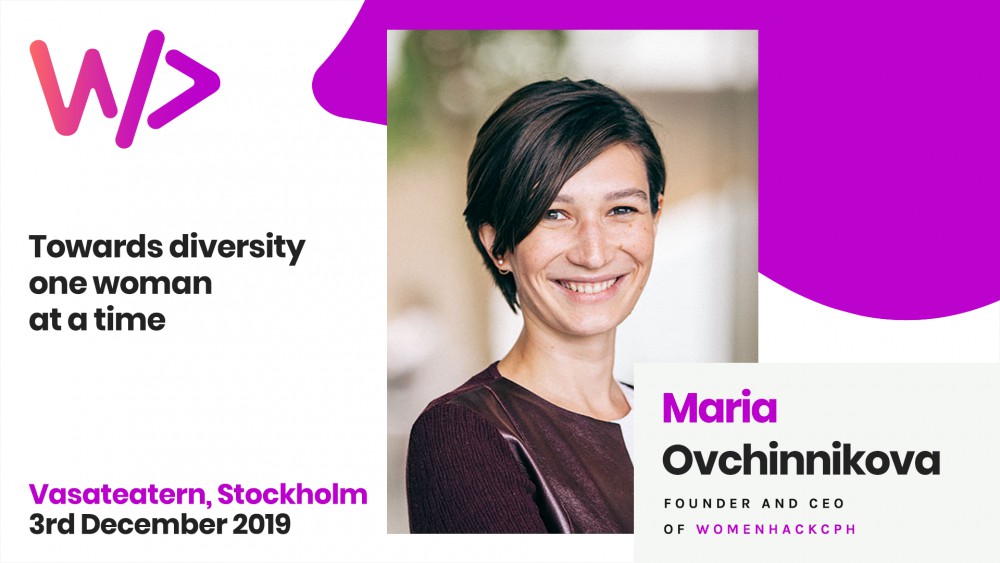 In the past few years, she has been actively engaged in a set of initiatives to encourage more women to join and engage in the tech/AI field, one of which is hackathon event just for women.
Hyperight: How is the first women hackathon encouraging females to engage in the tech and data community/industry?
Maria: With the hackathon event, we provide the opportunity to our female attendees to see and experience the business side of our partnering companies through their data. The concept behind the event is to bring STEM-educated females in the same location and allow them to connect with each other but also connect with our partnering companies.
However, diversity at the organisation covers a broader spectrum than just a gender. Diversity also refers to people with different skill sets and backgrounds, coming from professional or personal decision paths.
Sara Sylvan, a Product Owner part of the Data Science Team at Connected Intelligence Scania, will be participating in the Innovation Panel with the topic "Bridging the Gaps between Business, Data Science and IT".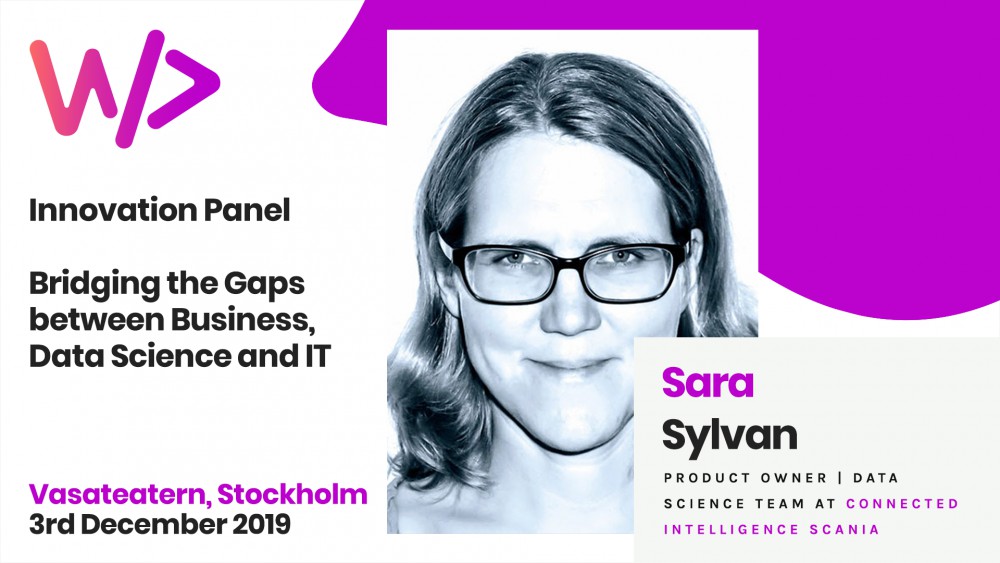 Sara has a background and PhD in theoretical physics. But the same eagerness to learn that has lead her to academia, has also taken her to Data Science.
Hyperight: Sara, how does a theoretical physicist turn into Data Scientist?
Sara: The step, from doing calculations to understand the behaviour of atoms to do calculations to retrieve knowledge from data, is not far. Therefore, I have spent the last ten years, holding different positions, utilizing data to acquire information that enables someone to take actions.
Hyperight: Where do you see diversity's role in bridging the gaps between business, Data Science and IT.
Sara: In a successful team, you acknowledge and leverage the fact that people have different skill sets and backgrounds. I believe that this mindset is crucial for all companies, it does not matter whether the diversity in skill sets is a consequence of belonging to different departments in the organisation or if it originates from personal experiences. We have to have diversity in the teams in order to cover as many aspects as possible of the problem at hand, but also to provide a stimulating environment where people continue to grow and evolve.
We are aware that diversity covers many aspects, but again it's all about people. For that purpose, we talked to the experts in the first lines – the human onboarding and people experts. Gustav Roth and Lena Noaksson are People Experts and Doers at Doings by House of Impact.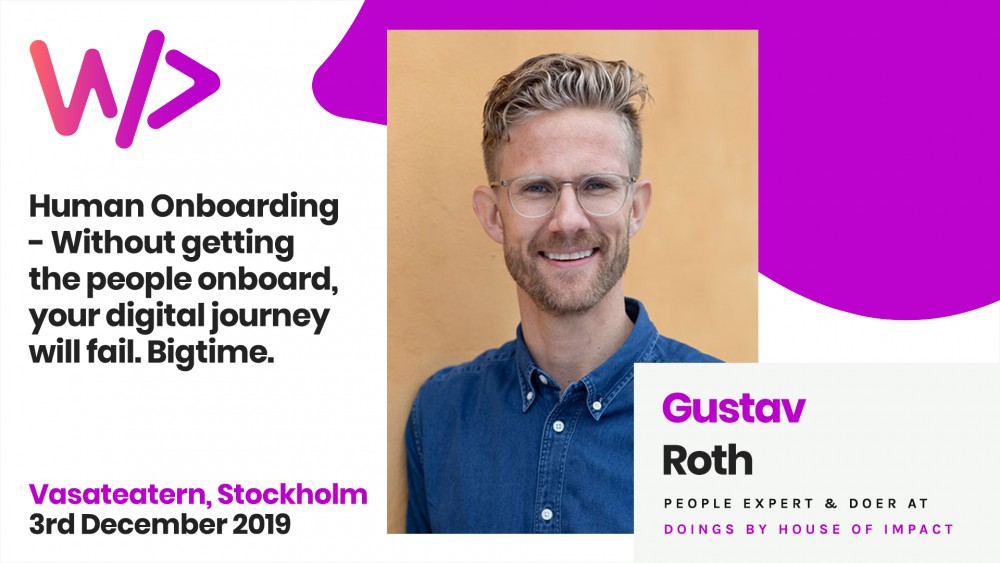 Hyperight: Hi Gustav and Lena, please tell a bit more about yourself to our readers.
Gustav: I have a background in behavioural sciences and I love supporting organizations in developing their culture, engagement and leadership. Currently, I'm up to my ears immersed in a digital tool called Weekli and I'm helping customers to get the most bang for the buck. The most important ingredient to make that happen? Human Onboarding of course.
Lena: I'm a committed entrepreneur, leader and Doer. Passionate about development and learnings through genuine engagement, to achieve growth and concrete results for people and business. And having great fun while DO(TH)INGS.
Hyperight: In your presentation, you are going to focus on Human Onboarding and its importance. Where do you see the role of diversity in the onboarding process?
Gustav and Lena: We believe that it is important to take diversity into consideration when working with human onboarding – but not necessarily diversity as we use it when talking about for example gender or ethnicity.
Instead, we want to emphasize a mindset that is open to diversity. Or simply put, there needs to be an understanding that people are different and have different skills, needs and dreams. And thus different ways of learning and processing information. If one can have that mindset when mapping out a change project there will be a greater humbleness and openness to the integrity of all stakeholders involved – and a higher chance to succeed.
The benefits of diversity are numerous, but when you are working with innovation, it's especially important to have diverse teams.
For the importance of diversity in innovation, we chatted with Agnes Sävenstedt. Agnes is a Co-Founder and Director-Level Consultant at Innovation 360 Group.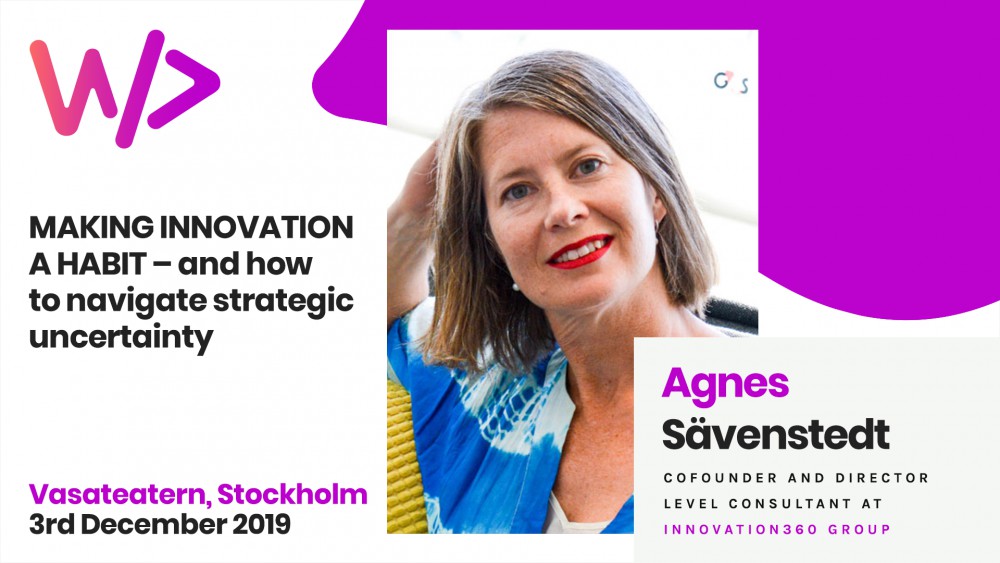 Hyperight: Agnes, how did your journey with innovation start?
Agnes: I am an engineer who has been working full time in innovation since 2008. Started out as Head of Innovation at Aftonbladet – a wonderful time to learn about innovation management and understand the potential of digital disruption.
Hyperight: One of the main key takeaways of your presentation is establishing innovation as a habit. What part does diversity have in establishing innovation as a habit in the organisation?
Agnes: Diverse teams, gender-, and, age-wise as well as culturally, have been proven to produce higher innovation height. When it comes to managing innovation, different behaviours or personas are vital in different stages of the innovation process and hence a focus on diversity is key in any establishment of an innovation management system.