Last week, we talked to some of our Nordic Women and Data Summit speakers on the topic of diversity; their thoughts on diversity, specific activities their companies are involved in to encourage diversity and their personal journey with data.
This week, we'd like to introduce you to other outstanding female data professionals that are going to take the floor at Nordic Women and Data Summit on December 3 at Vasateatern. Celine Xu, Farnaz Motamediyan, Elin Allison and Elena Kell share their views on the state and role of diversity in data and analytics.
Celine Xu is a Senior Data Scientist at Axel Johnson. Celine is passionate about applying ML/DL algorithms and new technologies to improve companies' business performance and to steer companies to maximize data-utilization. She is living proof that data scientists come from very different backgrounds. Before becoming a data scientist, she started a career as a strategic consultant in McKinsey Shanghai, then she worked in the Private Equity industry in the UK and China.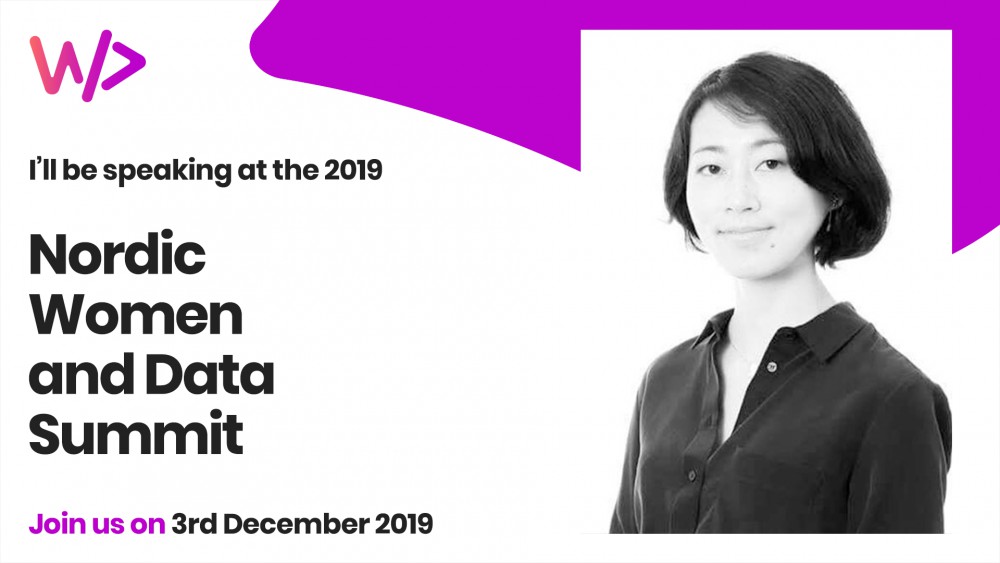 Hyperight: You are going to participate in the Innovation Panel with the topic "Bridging the Gaps between Business, Data Science and IT". Where do you see diversity's role in it?

Celine: Stephen Covey said: "Strength lies in differences, not in similarities." Many research in collective decision-making and creativity show that groups with higher cognitively diverse tend to make better decisions. According to a study from Harvard Business School, multicultural networks promote creativity. The more diverse and inclusive one organization is, it becomes more innovative, more adaptable in a fast-changing environment and easier to cast the best talent.
There are always multiple dimensions of diversity: e.g. diversity of experiences, perspectives, cultures/nationalities, genders, and age. Under this context, I think, we can decipher 'diversity' from two major perspectives.
If we talk about the "job role" in the team, the responsibility, speciality and the perspective to understand the world are different. Team members with a business background are usually responsible for operations and business results, who are equipped with specific domain knowledge, like marketing, sales, finance, and so forth. They tend to be more economic oriented, or customer-focused.
Data scientists, on the other hand, are generally responsible to translate the business questions, logics, heuristics into data models and use statistics or machine learning to produce useful insights or applications. They specialized in problem solving, statistics, algorithms and programming. They quickly see if a business success can be measured, modelled and what insights can be coded as products. They view the world more from statistical, objective and structured perspective.
The IT department is normally responsible for infrastructure and IT operation functionality. People from IT prioritize having a functional, stable and efficient system with less maintenance, which may not be directly perceived by end customers, but their work is reflected as user satisfaction or data quality. Bringing people with different perspectives together can improve problem-solving and lead to smarter, more sustainable decision making.
When we focus on 'diversity' itself within those roles, we see the role of gender inclusiveness. Gender balance can improve an organization's innovation. According to a research paper from Lynne Millward and Helen Freeman, women are perceived as more adaptive and risk-averse, while men are perceived as more innovative and risk-taking. "Bring both together leads to more and better innovation and improved financial performance", a recent study by the Boston Consulting Group states.
Diversity and equality in data need vocal proponents and advocates who are not afraid to speak their mind. The question of diversity should be present at all meetups, conferences and events, because the first step towards solving a problem is admitting there is a problem to solve in the first step.
Our next speaker is definitely one that bravely speaks her mind. We have Farnaz Motamediyan, a Data Analyst at iZettle. Farnaz will hold a presentation about the Data-Driven Marketing Attribution model they are doing at the Data team within iZettle.
Hyperlight: Farnaz, could you share a bit about your background?
Farnaz: I guess I start with my name: My name is Farnaz, one of the most Persian names out there. I moved to Sweden to pursue higher education and do my master's degree in Computer Science. I thought I would move to North America after finishing school but I fell in love with Swedish values and the country itself, so here I am 9 years later being a proud Swedish citizen.
Hyperight: Farnaz, what are your thoughts on diversity in the tech and data sphere?
Farnaz: I live and die for equality and diversity in each corner of our society not only Tech and Data. It is empowering to see strong competent women in the field and follow their path. It is also extremely encouraging to be supported by visionary and genuine male leaders caring about diversity and inclusion. However, we still need to work a tad harder to close the diversity gap in the Data sphere.
I have a few convictions: one is that the future of product/service Innovation is tied to Data and AI. And the other is that for a progressive and sustainable future, 'feminine leadership' is needed (leaders with bold feminine values i.e compassion, creativity, collaboration, etc..). so here I have a slogan to preach: more feminine leadership in the Tech and Data sphere.
The next two speakers are coming from Telia company and both have quite an extensive experience with AI innovation and insight into how diversity can enhance it.
Elin Allison heads up Telia's Division X New Products portfolio team for data insights products. She has nearly 20 years of experience working in the Telecom and IT industry. Elin has a background in product management, business development and incubation sales for retail, IoT and public sector.
Hyperight: Elin, the focus of your presentation is how to manage the risks and maximise the potential of technology. In a few words, could you please share Telia's efforts in this area?
Elin: Innovation and testing of new technologies aren't happening in one isolated part of an organization. But to be able to create an atmosphere where innovation is ever-present and people have a desire to contribute, you need guidance and a foundation. That's what we had in mind when we created our framework of principles for Trusted AI Ethics for example.
With this framework, the whole organisation feels confident with bringing forward new ideas, unleashing creative thinking and at the same time mitigating risks. AI will lead to widespread changes in many dimensions, such as productivity rate and transformation of job markets. These changes need to be addressed in proactive and respectful ways. Trust is a prerequisite for fully harvesting the AI benefits for all stakeholders. It is of utmost importance that every player that deploys AI is transparent and accountable and acts responsibly in all aspects. We review the Guiding Principles at least annually.
Hyperight: Could you please share what Telia is doing to encourage more females to start engaging in the tech and data industries?
Elin: In order to inspire and engage girls in tech we continuously host what we call Female Role Model Days globally in Telia. During those days we invite girls to accompany some of our female colleagues for a day. They get to see what they do, ask questions and see the diversity of things Telia offer to work with. We've also invested and participated in girls' hackathons and similar tech fests. But of course – we're always looking to do more.

Elena Kell is an Innovation and Change manager with a passion for exponential tech, diversity and sustainability. Elena co-leads AI Center of Excellence and drives AI/ML initiatives in Telia Company.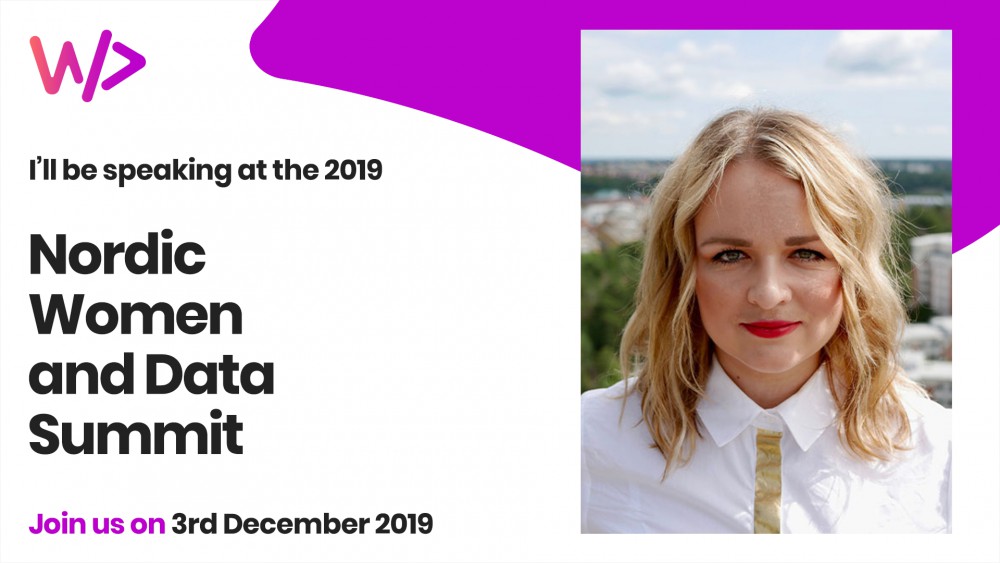 Elena is a social scientist and has been working in the tech company for most of her career, which lead her to get into AI, diversity and ethics discussion. The scope of her work is broad, from leading AI initiatives in the legal domain to working with internal guidelines for trusted and ethical AI. Elena is also involved in increasing women's representation and participation in AI.
Hyperight: You are going to participate in the Morning Panel with the topic "AI Innovation, Ethics and Diversity". Could you please share your thoughts on the role of diversity and ethics in AI innovation?
Elena: My background is in sociology, globalization and sustainability and I have realized early on that AI has a lot of similarities to globalization, i.e. it is likely to benefit those who are in the decision-making positions and negatively affect those who are not involved in it. We are seeing a similar story with AI where those who are not involved in its development or represented in the data-sets will face the consequences of inequality on a massive scale. I feel passionate about making an impact in this space, but we need to act fast and we need to accelerate our diversity & ethics agenda to make this happen.