We are just a few days away from the third edition of the Maintenance Analytics Summit. The first, inaugural Maintenance Analytics Summit took place in 2018 as a response to the need for a platform where experts can present and discuss innovative case studies on data-driven maintenance in the heavy asset and manufacturing industries.
Looking back from the current decade, where we already discuss Industrial AI, just two years ago, the emphasis of the event was on the shift from Condition-Based Maintenance to Data- and AI-enabled Predictive Maintenance. The sessions mostly outlined important applications and leading use cases of IoT and Industry 4.0. in predictive maintenance.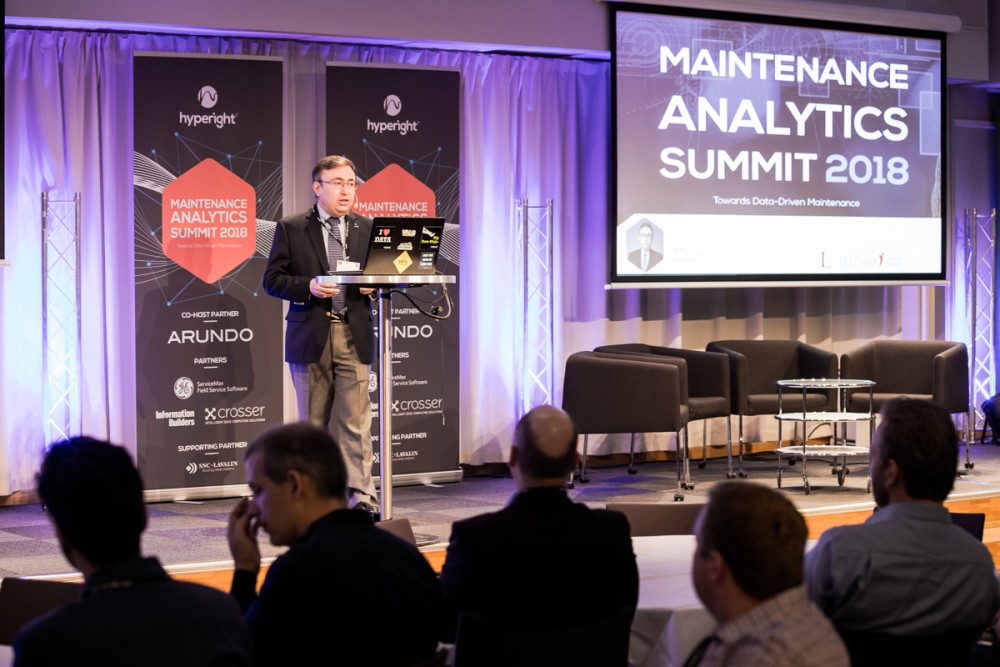 Many renowned PdM experts joined the dialogue on stage. They selflessly shared their knowledge with analytics strategy, increasing asset productivity, quality and reliability, and switching from reactive to a predictive strategy.
Here it is – the topics that were discussed onstage the Maintenance Analytics Summit and a detailed walkthrough of the presentations at our debuting edition.
1. Industrial IoT: Maintaining The Machines – Rado Kotorov, CEO of Trendalyze
In his previous capacity as Chief Innovation Officer & VP at the Office of the President at Information Builders, Rado Kotorov discussed the future of machines in the context of industrial IoT and maintenance. He outlined the concept of self-sustainable machines – the ultimate level of condition-based maintenance, and their ability to make intelligent decisions, take actions autonomously and self-repair. Rado also presented the interconnected architecture that a digital enterprise should adopt if it deploys such an intelligent machine and in order to take full advantage of it. He also demonstrated how companies leverage machine data and its role in the emergence of the product-as-a-service business model. Watch Rado's presentation in the video below.
2. The Digital Butterfly Effect – Amer Mohammed, CDO at Coop Sverige
Amer Mohammed, then working as Head of Digital Innovations at Stena Line, enlightened us as to what digitalisation actually means for a company and how it should be perceived. Hint: it's not about the technology. "Technology is only a commodity that anyone can access", Amer stated. It's all about using technology to deliver superior customer experience enabled by automation. He showcased hoe Stena Line deploys innovative solutions to meet the needs of their customers in the digital era, while using AI as a foundation. Learn how they did it in the video below.
3. IIoT For Process Control (Practical Talk On What To Measure, Who To Report It Too) – George Buckbee, Head of Performance Solutions at Metso
George Buckbee talked about the Internet of Things – IoT in an industrial context and kinds of smart devices in process control that create a smart factory. George referred to several crucial considerations regarding the connectivity of plants. Additionally, he highlighted how IIoT for industrial process control systems developed over time. As George explained, much of the talk about IIoT has been equipment-related, with monitoring of machines, turbines, compressors, and other large equipment. But monitoring of industrial control systems includes monitoring of the performance of not only basic equipment, such as instrumentation and valves, but also monitoring of control loops, control strategies, and process results. Listen to George's whole presentation below.
4. Adding RPA To Your Mix Of Models –  Peter Loof Helth, Head of Department at ATP
Peter Loof Helth went a step further and presented on adding Robotics Process Automation to the predictive models to optimise assets without the fear of human error. RPA is a way of mitigating our human errors. Peter's presentation focused on how Ørsted successfully implemented robotics automation in their processes and what to consider if you are thinking about doing the same. Go ahead and watch Peter's presentation below.
5. Providing Assurance On Diagnostics And Prognostics Technology – Joseph Morelos, Lead specialist engineering at Lloyd's Register
Joseph Morelos told his story of how Lloyd's Register started their transformation saga by increasing automation and health management of their marine assets technologies. Health management is crucial for increasing profits, safety and reliability of assets, but it's also an enabler of autonomous systems, stated Joseph. Comprehending the importance of the effectiveness of the technology for their customers, Lloyd's Register launched a diagnostics and prognostics programme as a health meter and failure meter of their systems. Watch Joseph's talk in the video below.
6. Supporting Digital Transformation Through Data And Analytics – Bjarke Osmundsen, Analytics & Insights Manager at Danfoss
Bjarke Osmundsen walked us through the journey of turning a conventional hardware giant into a company capable of delivering customised digital solutions for its customers. Bjarke explained how Danfoss supported their digital transformation through data and advanced analytics, data mining and visualisation for optimisation and innovation. Bjarke personally headed the data analytics initiative to support data analytics projects throughout the organisation. Watch how they made it happen below.
7. The Road To Zero Unplanned Downtime – Kieran Notter, Director Global Customer Transformation at ServiceMax
Kieran Notter introduced us to one critical aspect of Service-as-a-Product business – unplanned downtime. Keeping assets up and running is mission-critical for the reputation, customer satisfaction and for keeping costs low. However, can we calculate the cost of unplanned downtime? Kieran presented how technology is helping companies to manage and maintain assets to prevent outage failures. He also highlighted why achieving zero unplanned downtime should be a company's number one priority. Watch below how they and their customers are succeeding with predictive and preventive maintenance of mission-critical assets.
8. Reverse Engineering Approach For System Condition Monitoring – Lokukaluge Prasad Perera, Associate Professor at UiT The Arctic University of Norway
Lokukaluge Prasad Perera took the stage to present his academic work with condition monitoring and condition-based monitoring. Lokukaluge had been researching with data from the shipping industry, and he shared his lessons working with those datasets. His work presented a novel mathematical framework categorised as a reverse engineering approach relying on big data sets for condition monitoring and condition-based maintenance. Watch Lokukaluge talk below to learn more about his reverse engineering mathematical framework, which was groundbreaking in 2018.
---