The seventh edition of the Nordic Data Science and Machine Learning NDSML Summit has been marked! Additionally, this edition brought together AI enthusiasts, researchers, and professionals from the Nordic region and beyond, focusing on Applied and Generative AI.
Join us as we uncover some of the discussions from this edition.
Chairman's Opening Remarks
Robert Luciani, AI & Data Advisor at The AI Framework and a professional in formal logic and computer science, served as the Chairman of this edition. With experience in the development of disruptive technologies, Robert shared his expertise towards a prosperous future. Then, he emphasized the importance of staying at the forefront of innovation and relying on AI tools like ChatGPT.
"Don't get stuck in a conventional mindset", says Luciani, following up with encouraging attendees to avoid rigid thinking. He discussed the challenges of predicting the future and illustrated the unpredictability of technology.
He stressed the importance of business acumen for Data Scientists, stating, "One of the things we need to get better at as Data Scientists is being business-savvy." Finally, Luciani concluded his talk with the message, "The best way to predict the future is to create it."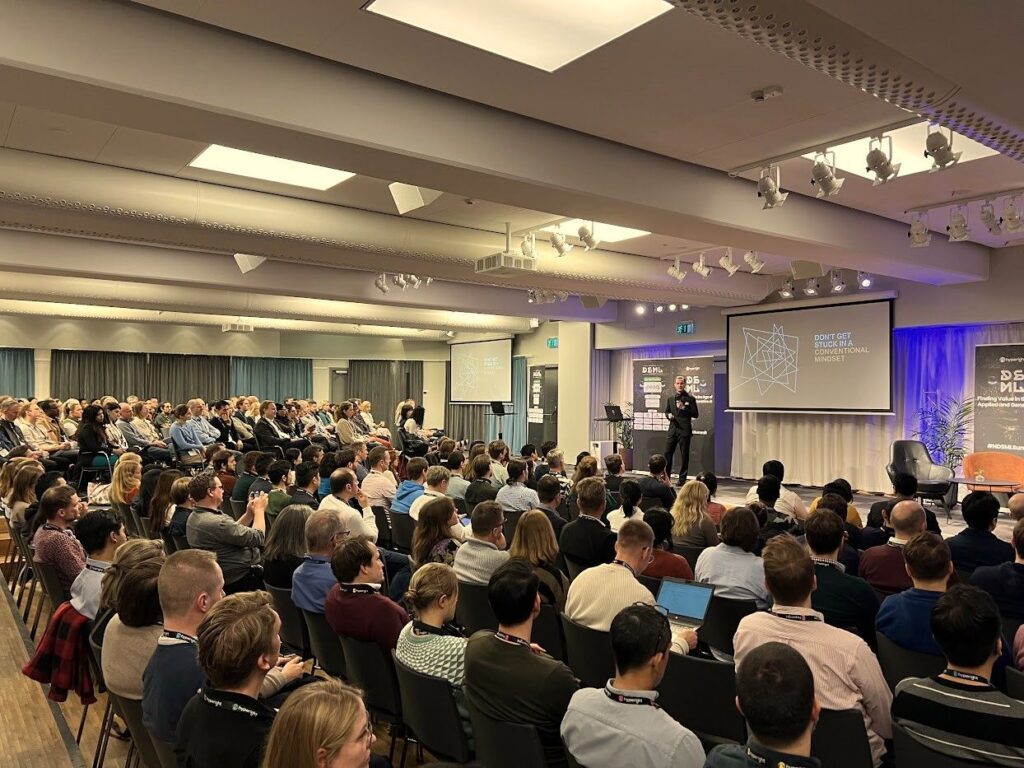 Four Keynote Speakers
We were honoured to welcome four distinguished keynote speakers at this edition of the NDSML Summit:
Keynote Speakers – Day 1
Dr. Piotr Mirowski, Staff Research Scientist at DeepMind, integrates science and theater. In his talk, he explores AI as a creative partner, focusing on achieving a balance between predictability and surprise and raising questions about AI's capabilities in creative endeavors.
Furthermore, Dr. Mirowski emphasizes improvisation and practice, discussing statistical models and improvisation. He showcases his efforts in pushing the boundaries of human-AI collaboration through robot improvisation.
Kristof Neys, Director of Graph Data Science at Neo4j, explores the fusion of Large Language Models and Knowledge Graphs. In addition, Neys describes this union as "the perfect couple" that revolutionizes knowledge representation. He explores the practical application of LLMs within knowledge graphs, inviting the audience to consider the possibilities of knowledge representation.
Neys states, "In a world teeming with infinite content, knowledge emerges as a valuable resource." as he explains the knowledge graph and its interactions with language models. Additionally, he underscores three key strategies for enhancing LLMs' performance: Fine-Tuning, Few-Shot Learning, and Grounding.
Keynote Speakers – Day 2
Love Börjeson, Head of KBLab, National Library of Sweden (KB), explores critical thinking and media literacy in the digital era. He raises concerns about the manipulation of high-quality data in the context of Generative AI. Börjeson challenges our perception of truth, suggesting that we can achieve verifiable truth rather than absolute truth. This encourages us to consider applying the same principle to AI models. As technologies evolve, it becomes our responsibility to maintain trust in the AI age.
Consequently, the fundamental question is, "What should we do now?" With the rise of deep fakes, it becomes crucial to establish strategies for authenticating information sources and AI models. In a world where anyone can create fake news, trust becomes a precious commodity. This presentation calls for an effort to navigate this challenge.
Dr. Kjell Carlsson, Head of Data Science Strategy and Evangelism at Domino Data Lab, discusses the integration of diverse Machine Learning techniques into organizational operations. In addition, he argues that the real potential for transformation lies in embedding all types of Machine Learning, including Generative AI. This builds the necessary capabilities to deploy ML models across every country, cloud, and on-prem environment.
The goal is to shift from isolated ML successes to transformation by adopting best practices derived from advanced Data Science and Machine Learning organizations. Attendees gained insights into scaling DSML, the capabilities required for deploying ML models, and ensuring compliance with AI regulations.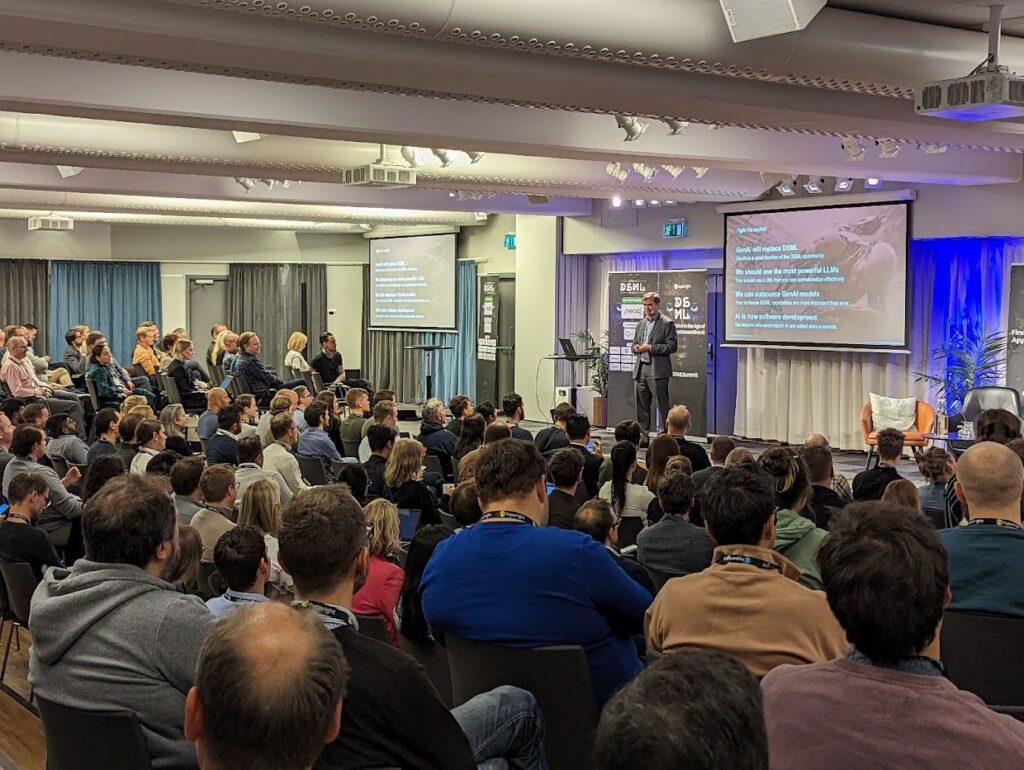 Insights from the Panel Discussions
The panel "How to prepare for a fast-changing DS/ML/AI landscape – Trends, Challenges and Opportunities", covered trends, challenges, and opportunities within the dynamic landscapes of Data Science, Machine Learning, and Artificial Intelligence. Some of the key takeaways were:
To thrive in the dynamic DS/ML/AI landscape, one should be committed to staying up to date with the latest trends, tools, and techniques.
Ethical considerations are crucial. Discuss ethical challenges and responsibilities in AI development. Emphasize transparency, accountability, and share best practices and tools for ethical integration.
Data Science, Machine Learning, and Artificial Intelligence are not siloed disciplines. Hence the importance of encouraging cross-disciplinary teamwork.
DS/ML/AI initiatives should deliver tangible business value. Panelists discuss how to align AI strategies with organizational goals, measure ROI, and justify investments in AI.
During the panel "Finding Value in the Age of Applied and Generative AI" on the second day, industry leaders shared their perspectives on Applied and Generative AI. Some of the key takeaways were:
"Starting with data is fundamental.", emphasizing the importance of commencing AI with high-quality data. This forms the foundation for generating valuable insights with Generative AI.
Democratization of AI: It is important to make AI accessible to a broader audience, allowing more people to benefit from these technologies. The use of ChatGPT is an example.
Panelists advise caution in using AI models, and emphasize the need for nuanced application with the note "Be Nuanced!". AI models, while powerful, should be employed thoughtfully.
The evolving nature of AI models requires continual adaptation. Managing technical debt is a challenge due to the rapid technology advancements.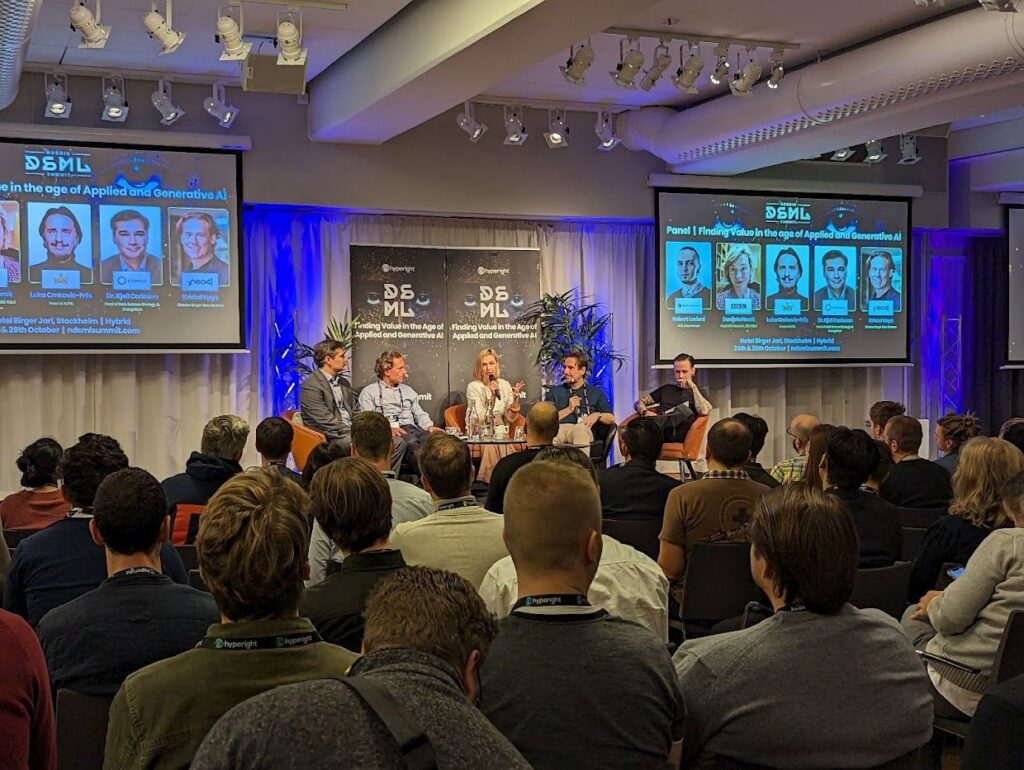 Glimpses into Some of the Presentations
At the NDSML Summit, we had the privilege of hosting esteemed experts and leading companies across three event stages: Strategy & Applied Analytics, Machine Learning & MLOps, and Infrastructure & Data Engineering. Let's highlight just a few of their presentations.
Strategy & Applied Analytics Stage
Nico Perony, Director of AI Research at Unity, discusses the evolution of Unity and the role of GenAI on game development and the gaming industry. Perony states, "AI augmentation is key to a shared future, where creativity and AI collaborate rather than compete."
During her talk, Johanna Björklund emphasizes the establishment of an innovative ecosystem around Generative AI in Sweden, highlighting its significance in the media and language domains.
Frederik Heintz, Professor at Linköping University, provides insights into the AI act and its implications for Data Science, Machine Learning, and AI.
Leading companies such as Tesla, JPMorgan Chase & Co., Tetra Pak, Telia Company, SEB, Lendo, Stylee Intelligence AB, and Quotient AI took on this stage to actively present their insights with the attendees.
Machine Learning & MLOps Stage
Danijela Horak, Head of AI Research at BBC R&D, discussed challenges in the media landscape. She highlighted the transformative role of AI, charting its evolution from the early internet era to the social media boom and its significance in 2020. Her talk further sets the stage for an exploration of AI's impact on news and media.
Roberto Castellini, Head of Data Science at L&H, SCOR, discussed the challenge of addressing fairness in AI and ethics. He highlighted their use of a multilingual Transformer model for the classification of security officer reports, showcasing a practical application of AI within ethical considerations.
Sumit Kumar, Senior Machine Learning Engineer at Meta in Seattle, USA, is navigating the landscape of AI-driven recommendations. In his talk, he explores the integration of Large Language Models (LLMs) in recommender systems, while presenting opportunities and challenges.
Hewlett Packard Enterprise, Ericsson AB, Thomson Reuters Lab, EQT, Uppsala Monitoring Centre, SEED, Securitas Digital, and Codon Consulting also contributed in enhancing the attendees' understanding of strategic insights and the practical application of Machine Learning.
Infrastructure & Data Engineering Stage
Micha Kunze, Lead Data Engineer at Maersk, provides insights into Maersk's journey and the team ending up developing a lakehouse. Maersk's transformation began with its origins as a ML team.
Jo Kristan Bergum, Distinguished Engineer at Yahoo, explores the concept of embeddings, and their purpose as powerful representations of data. He then delves into recycling embeddings, demonstrating how these tools can be repurposed. Additionally, he presents case studies of organizations leveraging embedding recycling to enhance the efficiency and effectiveness of their ML projects.
Learn how to elevate your existing models to Vertex AI in the talk with Lef Filippakis and Andrew Wu. You can also gain insights as they share their perspective on Tink's journey.
During this stage, ING Bank, Scania, and Telenor brought their data analytics expertise to the forefront, with valuable insights followed by Cloudera, Schibsted, Danske Spil, and Gavagai.
On the second day, delegates encountered two Unconference Rooms, where they participated in and led more focused presentations and discussions. One room focused on Generative AI topics, while the other catered to a variety of topics based on delegates' preferences.
About the NDSML Summit
Finally, the NDSML Summit this year marked a success, with 400+ Data Science, Machine Learning, and AI practitioners at Birger Jarl Hotel in Stockholm. The AI Confessions party was a great opportunity for attendees to network and discover like-minded people to exchange perspectives.
To expand its reach, this hybrid event delivered an online experience through Agorify facilitating engagement, networking and collaboration.
In addition, our co-host partner of this NDSML Summit edition was Neo4j, and our powered-by partner was Domino Data Lab.
Registered attendees can access the event program on-demand through Agorify for a five-week duration following the Summit. If you are interested in accessing the sessions, you can sign up for a one-year subscription to Hyperight Premium.