Dubai, 7th of March 2022 – what a journey! We organized the Data Innovation Summit in the Middle East and Africa (MEA) region for the first time, and the feeling was incredible.
We managed to spread the spirit about the role of data and artificial intelligence (AI) in the MEA region by hosting an event that welcomed about 20 data experts who shared their expertise to 190 registered delegates following the event onsite and online. The theme of this edition of the Data Innovation Summit was "Towards Human-Centred Data & AI Innovation".
Goran Cvetanovski, Chief Editorial Director & CEO of Hyperight, opened the Summit. He briefly explained how his ambition from 2015 to gather data practitioners from the Nordic Region to demystify data innovation, to learn, and make a change, has become a reality and with this event even reached the MEA region. In his speech, he emphasized that the journey to data and AI innovation is only through change, people and culture, and that no company can transform quickly enough without collaboration with others. Something that echoed through the entire event in several of the presentations. The need for a closer data and AI community is present in all regions and therefore the importance of such an event platform to gather the community in one place.
This event was hybrid, meaning that participants were following the presentations onsite at the Habtoor Grand Resort, Autograph Collection in Dubai, and online through the platform Agorify. The presentations were constantly flowing on three stages: Data Innovation Stage, Analytics & Data Science Stage, and Data Management Stage.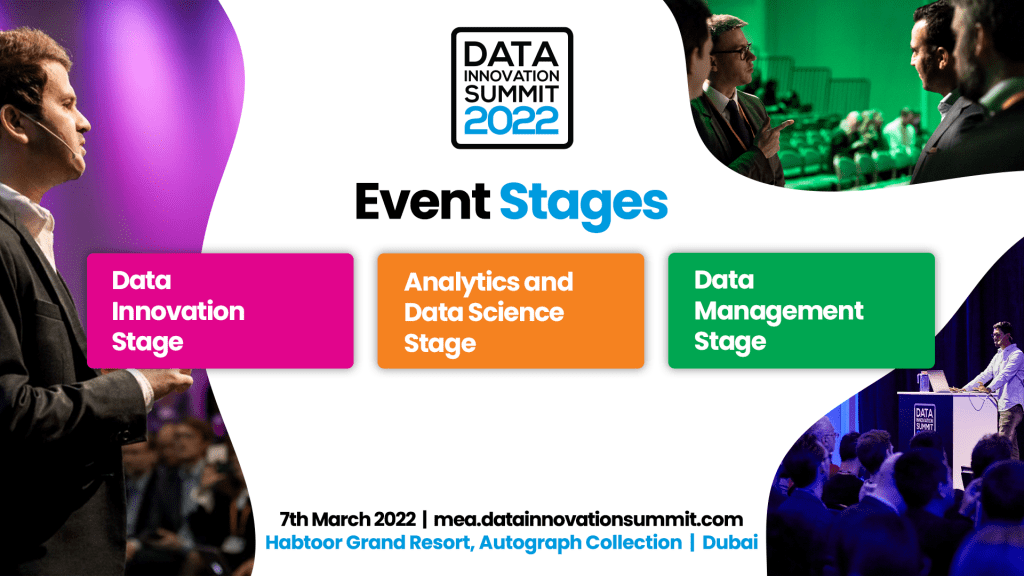 We'll come back to the highlights of all those great experiences in a while. First, we want also to inform you that three keynote speakers opened the Summit:
Henrik Göthberg, Interim Global Insight & Data Backbone Owner, Scania Financial Services & Founding CEO at Dairdux, shared his knowledge of organizing, orchestrating, and navigating change and transformation in an enterprise to become Data AI-Ready (DAIR). In his presentation he presented the intersection of Economy of Scale and Economy of Learning and how organizations can pivot or choose between one or the other.
H.E. Mohammad Hassan, an Executive Director at the Federal Competitiveness and Statistics Center, gave an insightful presentation about the "Exponential Data Business Model". He explained how due to advanced compute power, the traditional business data model will increase even rapidly, and at the same time how government regulation should change to engage private sector collaboration.
David Dadoun, CDO at BRP, spoke about "Disrupting the world of data with a fresh Data Strategy and Organization". He emphasized that every data strategy to bring results shouldn't be implemented alone, by a person or an organization.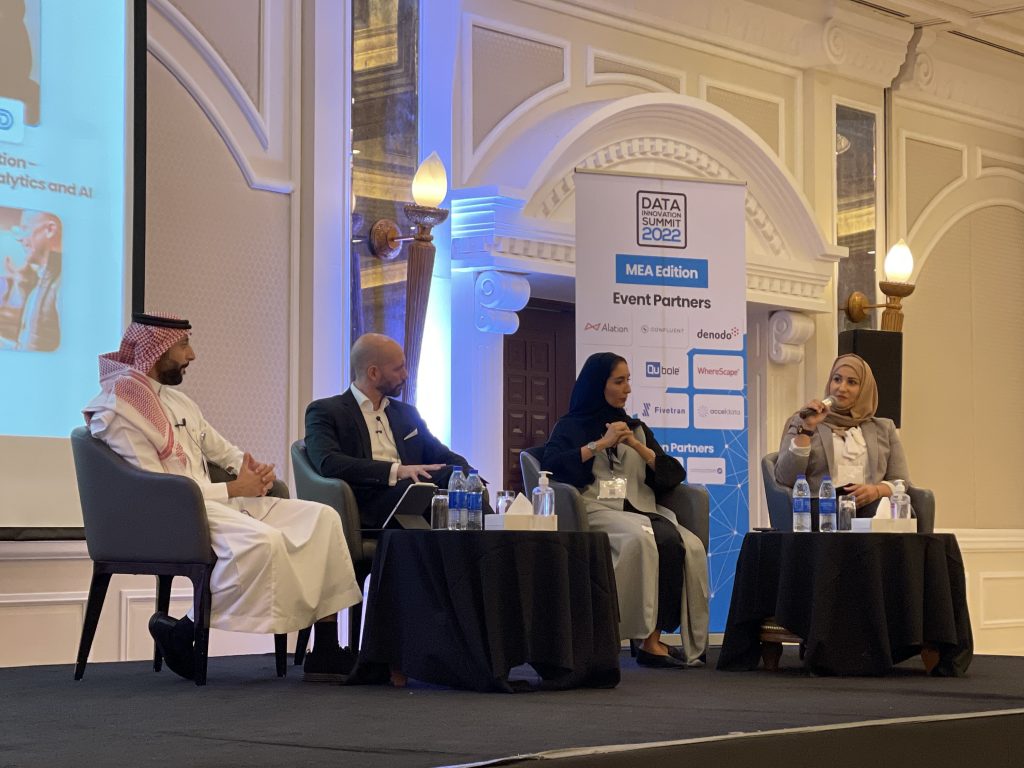 Next was the exciting discussion at the panel session "From Experimentation to Industrialization – How to create impact with Advanced Analytics and AI truly". More about the challenges that data scientists face in the MEA region as well as the needs they have, for example, trusted and quality data, points of view shared: Essam Mohammed Albishi, Director of Data Management & Artificial Intelligence Department at Saline Water Conversion Corporation SWCC; Sara Al Zarooni, Director, Data Management & Compliance Affairs at the Dubai Data Establishment, Digital Dubai and Seham Elbehissy, Product & Connected Services at Renault Africa Middle East Pacific.
After the panel discussion, the day and the event became busy, but in a great sense. The participants at the Summit had a chance not just to listen to the best practices from some of the most influential companies and data scientists but also to ask questions to get even better insights on different topics and trends. And we'll try to summarize all of that.
We'll start with the Data Innovation Stage. We had an opportunity to hear from Diego Galar, Professor at the Luleå University of Technology, sharing tips about optimizing AI for the oil and gas industry. While Alexey Sidorov, Data Management Director and Chief Evangelist MEA at Denodo, spoke more about the Data Fabric and how logical data fabric is the future of data management analytics. On this stage, we had the pleasure to hear more amazing presentations about the power of data and first-hand experiences, including the ones by Nezar Shalbak, Senior Solution Engineer at Tableau; Talal Mufti, Data Science Lead at Etihad as well as Ali Abusnina, Chief Data Scientist at Saudi Aramco. We were thrilled to have a chance to hear success stories in the data innovations by Coca-Cola and F1 representatives. Fawad Memon, Director Advanced Analytics and Insights at Coca-Cola Export Corporation Dubai, spoke about the company's experience with "the role of data science and ML in forecasting", how the COVID-19 pandemic brought a new challenge to forecasting and what they've learnt from digital minimization. At the same time, Max Métral, Senior Analytics Manager F1, revealed to us the "F1's secret to winning the analytics race".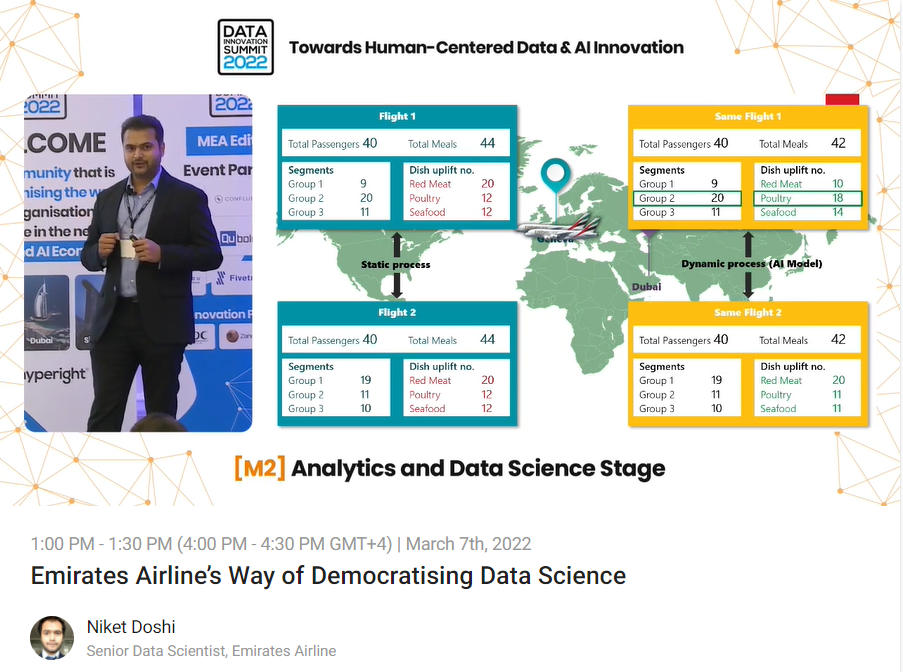 Moving on to the Analytics & Data Science Stage. There the Stage was "on fire" because of the insightful presentations and shared cases from everyday life on becoming a data-driven organization. First presented Mousa Mohamed Al Raeisy, Director Of Technology Strategy & Governance, Road and Transport Authority. Practical tips and advice about the key ingredients to achieve AI at scale with speed and control were shared by Umut Şatir Gürbüz, a Senior Sales Engineer at Dataiku. We are happy that we had speakers like Prashant Tewari, Regional Sales Director – Middle East Turkey Africa (META). He shared how they are trying to achieve a mindset change within the organizations by focusing on "true and pure on data and analytic platforms", proactive and preventive capability, and cost optimization and simulations. Niket Doshi, Senior Data Scientist at Emirates Airline, spoke about this company's experience of democratizing data. At this Stage, we had a chance to hear presentations from amazing women: Buket Begüm Kutsal, Senior Data Scientist at Turkish Airlines; Maryam Al Ka'abi, Data Scientist at Schlumberger and Asmaa ElTaher, Data Scientist at Vodafone on topics like how ML can help regarding fraudulent transactions, oil and gas industry and contribution to the planet and people's lives in general through the lenses of their companies.
What was going on at the Data Management Stage? A lot may be the proper expression. We had an opportunity to listen to Brice Leporini, Sr. Solutions Engineer at Confluent, who shared how this company is building partnerships, especially with customers and how their feedback on data governance is implemented at its operations and processes. We were honored to have Phil Jones, Data Quality and Governance Manager at Marks & Spencer, as one of the speakers at this Stage. He shared much on why we all need to govern data and how the company engages with the end-users to drive adoption. Similar experience, but focused on customer engagement in retail, shared Yaniv Naor, Director of Data Management and Data Governance Processes Company at Knauf (ex Hugo Boss). Tom Codling, Manager, EMEA Sales Engineering at Alation, had an excellent presentation titled "Govern Your Data, Empower Your People", through which he emphasized some challenges with data governance and, of course, methodologies to overcome them. The presentation by Abel Aboh, Data Management Lead at Bank of England, was a perfect continuation of the information shared at this Stage since it addresses the importance of a successful data management team. The last two sessions on this Stage were by Imran Chowdhury, Global Data Protection Officer at Al Jazeera Media Network and Mohamed Ashraf Ghazala, Head of Data Architecture & Analytics at Egyptian Bank.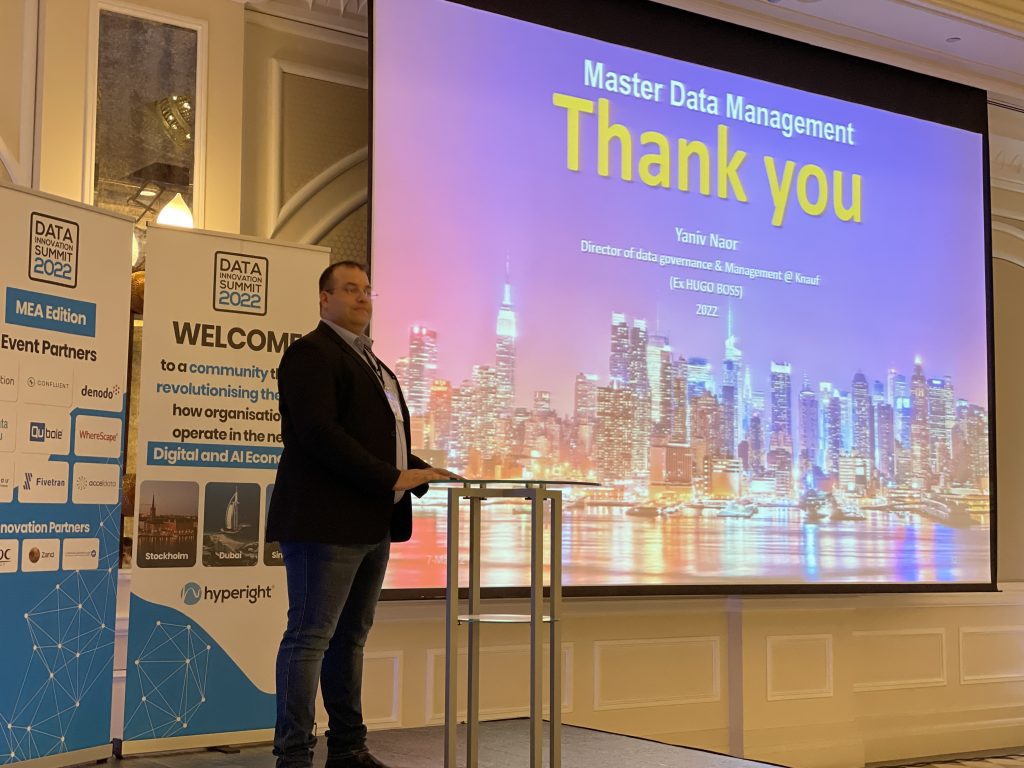 We hope you caught a glimpse of the Data Innovation Summit MEA and that you will not wait too long before you book your place at the next event in the region.
Until then, you can enjoy the presentations and remind yourselves of some key learning points anytime by registering at Agorify or visiting the Hyperight YouTube channel.
For what's next in the data and AI world, subscribe to our Newsletter and follow our social media: LinkedIn, Twitter, Facebook and Instagram.