For the first time after a few years, the Nordic People Analytics Summit happened onsite and with much excitement among the very engaged human resource (HR) and People Analytics (PA) community.
Much has happened from the last to this fourth edition of the event, and many questions have arisen. What does the HR world look like now? What are the struggles and challenges the practitioners and professionals in this area face? What strategies and tools do they use to deliver results after the actions taken? How to use data properly? How to build a solid People Analytics function? On these and many more questions, answers could be found in the sessions, panel, and roundtable discussions during the Nordic People Analytics Summit, focusing on "Towards Intelligent and Empowered HR".
The fourth edition of the NPA Summit was hybrid and was laid out during two programme days. Delegates could experience the event and choose between attending in-person onsite at the Birger Jarl Hotel in Stockholm, or online, through the Agorify event platform. No matter the format, participants had a unique experience not just to follow but be equally active and involved during the presentations and talks. One of the highlights were the hybrid roundtable workshops where delegates attending onsite and online could engage in deeper conversations through a new interactive onsite-online setup. This new setup was first of its kind tested ever in a live hybrid event setting.
Recap of Day 1
The first event day set up the stage for what was following the next day. It opened some topics on which the speakers dived deep through their experiences and stories that were shared. One of those topics was the complexity of data, how that can be simplified and easy to be understood by people, and how, with the usage of HR data or People Analytics function, any organization can create value.
"We need to improve the understanding of data by asking questions, by being curious, and this is, to me, where People Analytics comes into place. People Analytics takes the data to ask questions and understand the underlying behaviours and mechanisms in teams and organizations. We've seen a lot of PA functions that are not that but just reporting in excel and sending sheets back and forth, which is what we want to avoid. With People Analytics, you use data to create a valuable outcome for the business.", said Stefan Sander Grods, People & Culture Partner at MobilePay and Chairman of Nordic People Analytics Summit 2022.
The Keynote Speaker, Rich Bye, VP HCM Product Strategy EMEA at Workday, spoke about augmented analytics as a trend that can be applied in organizations by People Analytics teams. "Machines are better at doing certain things better than people are. People do certain things better than machines – how do you blend them?" said Bye, who shared examples and tips on how to unlock people and digital capabilities and how new and old ways of working can solve problems that organizations and PA teams do not even know exist yet.
The panel discussion on the first event day was on "Macro Labor Trends, Future of Work and the role of People Analytics". Ian Cook, Vice President, Analytics at Visier; Jessica Hosking, HR Data, Insights and Reward Manager at The Financial Times and Søren Kold, Director of People Analytics at The LEGO Group, took part in this discussion. It was about happenings before and after the COVID-19 virus with different trends, such as the Great Resignation. One of the conclusions is that there are still challenges but also plenty of opportunities where workplaces can make a difference and something to attract good talent. It was mentioned that the skills pattern is changing around digital, data and technical understanding of it with psychology and human understanding at the same time. This led to the discussion on AI, its influence on the labour market and the role People Analytics teams have, especially with the digital literacy and data democratization across businesses to address any challenges.
The part of the programme of the NPA Summit that caused a lot of attention and interaction was the first hybrid round tables on several topics managed by excellent experts. This concept allowed online participants through the Agorify application to ask questions, share views, and interact with the onsite participants and vice versa.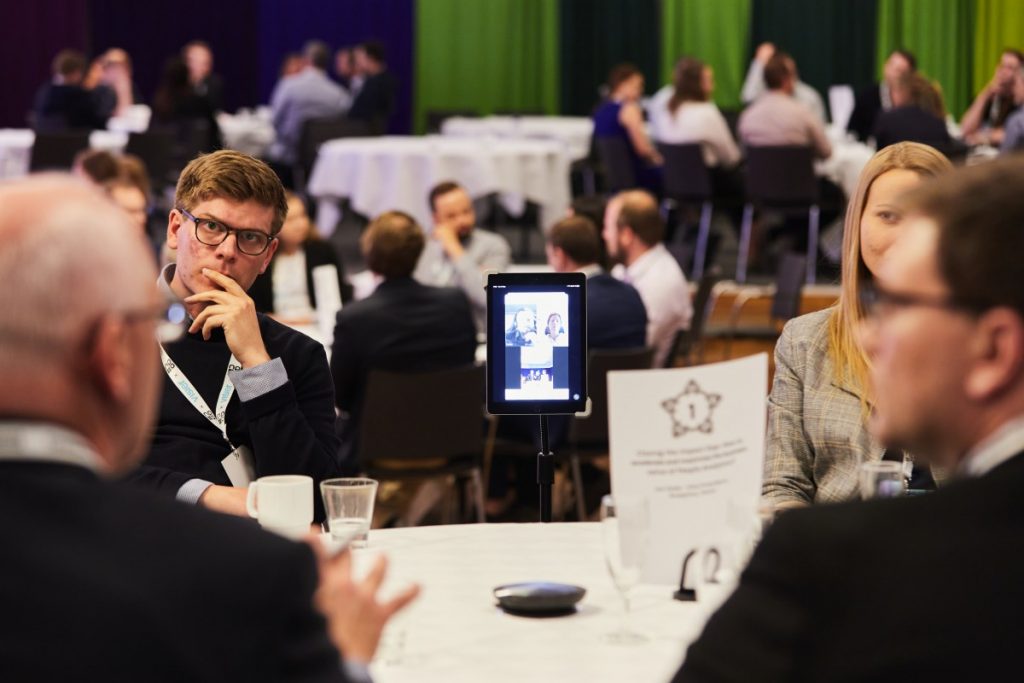 Recap of Day 2
The second day started with an inspiring presentation by Anna Gullstrand, Chief People & Culture Officer at the SaaS company Mentimeter that spoke about building employee experiences like building a product and what this approach means for organizations, people and culture, particularly for Mentimeter. Some of the reasons mentioned were: employee wellbeing, impact, engagement and motivation, retention and stickiness.
"A lot of the things we work within the People & Culture [department] are beliefs, values and mindsets. It takes a lot to change that. Never lose energy because nothing has happened, but be patient", added Gullstrand.
The second Keynote Speaker for the day was Ian Cook, Vice President, Analytics at Visier, who spoke about unlocking the power of People Analytics for organization design and transformation, emphasizing that the biggest pieces for transformation are: talent strategy and data analytics.
"Our mission is simple – to help leaders see the impact employees have on the business and the impact business has on employees. If you combine those, you get an amazing level of performance", said Cook.
During the second event day, a panel discussion was also scheduled on "How to accelerate business impact with People Analytics" with Andreas Joviken, Head of People Analytics at Volvo Cars; Lasse Thorenfeldt, Lead People Analytics Specialist at Grundfos and Richard Doherty, Senior Director Solution Marketing at Workday. The discussion started with shared opinions on how to convince businesses to invest in People Analytics. Some of the conclusions were that there must be a first understanding of the role of PA by the management and broader HR community and the value it brings to the organization, then that the PA should be connected with financial metrics and align PA with the reporting of the company. The discussion continued with the risks and impact on the organizations without People Analytics teams or departments.
The second event day also had hybrid roundtable discussions. There were also two parallel tracks on the second event day with many insightful sessions.
At the Strategy & People Analytics Deployment stage some of the speakers and companies that presented were: Maria Norris – Head of People Analytics | Telia Company; Matias Hviid – Manager, People Analytics & Strategic Workforce Planning & Christian May – Business Analyst People Analytics & Insights | The LEGO Group; Kevin Erikson – Head of Talent and Workforce Insights | Novartis; Jessica Hosking – HR Data – Insights and Reward Manager | The Financial Times and Sara Manne – Director of Global People Strategy and Transformation | Oda.
At the Advanced People Analytics & Data Management some of the speakers and companies that presented were: Sam Fletcher – Head of Talent Intelligence | PayPal; Richard Doherty – Senior Director Solution Marketing | Workday; Anna Horvath – Director and Head of Compensation and Benefits | ASSA ABLOY; Büşra Çıkla – Data Scientist | ING; György Pál Kovács – Head of People Analytics | Ericsson AB and David Meza – AIML R&D Lead – Sr. Data Scientist People Analytics | NASA.
There was also an additional stage, Applied People & Workforce Analytics, where Muge Guclu, Senior Data Scientist and Yuyu Zeng, Data Scientist at Shell – The Netherlands, presented.
The day ended with the insightful presentation by Jacob Nielsen, Senior People Analytics Specialist at Grundfos, who spoke on a topic that was identified as very important by the delegates, and that's the diversity, equity and inclusion as part of the strategies drafted by the People Analytics teams.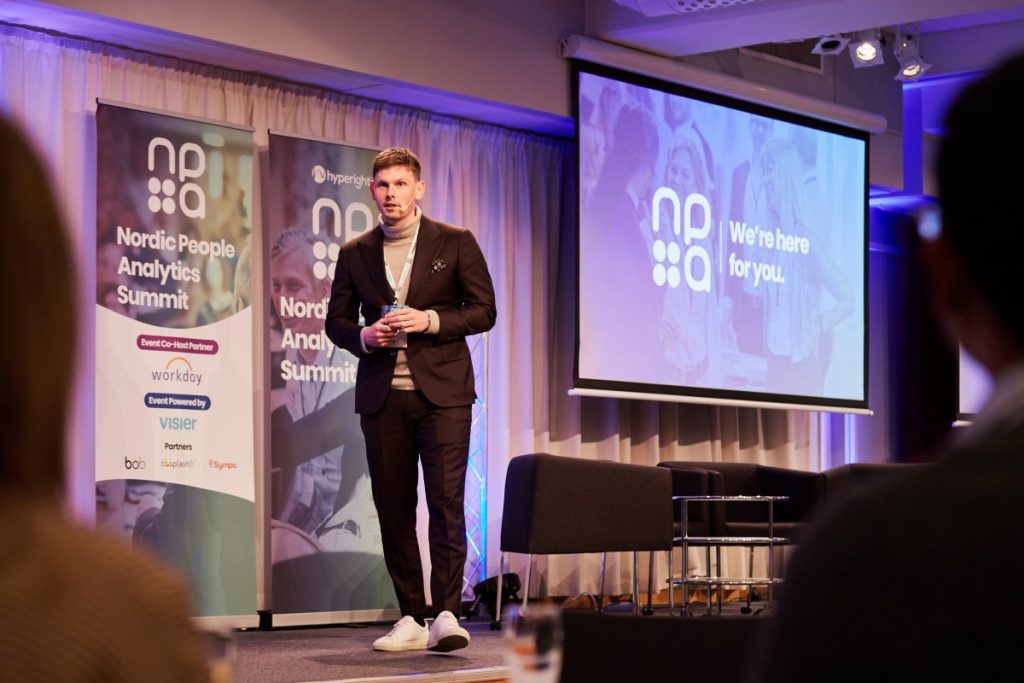 The event was a perfect opportunity to renew and establish new connections among the data and HR practitioners in the Nordics and discuss ways to accelerate data and AI innovation through the HR function and enable faster transformation.
"It's not related to productivity and efficiency, but it is related to mutual accountability, and this is related to behaviour. The hardcore excel reporting can not explain behaviour, but People Analytics can help us a lot.", added Stefan Sander Goods, the Chairman of Nordic People Analytics Summit 2022 in his closing remarks.
What's Next?
At the end of this article, we want to remind you to follow the Nordic People Analytics Summit website for more updates on what is next. Also, if you attended the Summit this year, you have all the content on demand for the next five weeks at the application Agorify. If you haven't attended the Summit but you want to get access to the event presentations, and also all previous presentation from the Summit and other Hyperight events, you can easily do that by purchasing the Premium Hyperight.com annual subscription: https://hyperight.com/premium/And, if you know someone or consider yourself someone who can contribute to the field of data or AI-driven HR and People Analytics, register yourself or nominate an expert as a speaker here: https://hyperight.com/nominate/.