We had a fantastic opening of the sixth edition of the Nordic Data Science and Machine Learning (NDSML) Summit focused on Human-Centered Data & AI Innovation.
This year's program fulfilled the attendees' expectations because it has sessions, discussions, presentations and networking opportunities tailored for data science and ML practitioners.
We gathered this community of professionals to share ideas and ways to harness the full potential of Advanced Analytics and AI and explore the development and maturity of Data Science and AI as a function.
"Our Next Move"
The message the Chairman of the NDSML Summit, Errol Koolmeister, Founder of The AI Framework, sent through this presentation and to the audience was that organisations need to start defining and mapping their capabilities to put AI in production and scale AI.
He explained the definition, the types of capabilities, and the organisation's next move when they think of strategic investment when utilising AI and during the data-driven journey. Considering technology, people and processes are crucial factors when making decisions, he pointed out.
"Central teams are good at creating governance and process, but in order to start scaling up, you need to start decentralising the speed of execution.", said Errol Koolmeister.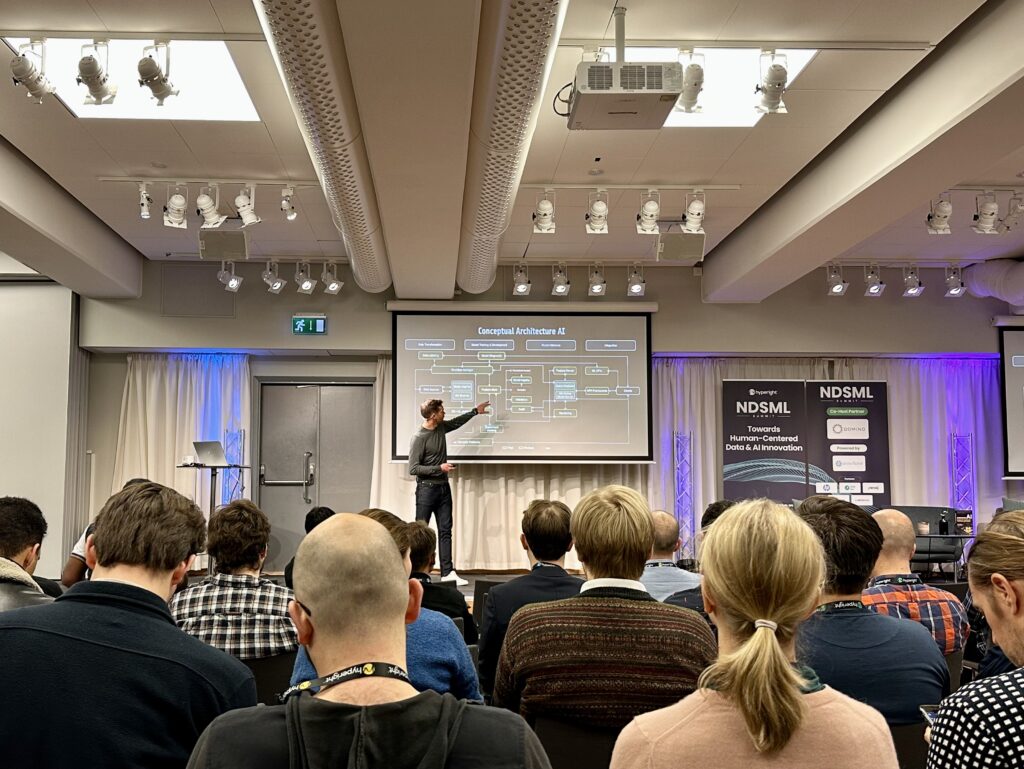 Four Keynote Speakers
We had the honour to have four fantastic keynote speakers at this year's NDSML Summit:
Toju Duke, Programme Manager, Responsible AI at Google, spoke about Responsible AI and that it's every individual and organization's responsibility when developing AI models to have a Responsible AI framework. She shared great resources with the audience: Odi's Data Ethics Canvas, Know Your Data, Fairness Indicators, AI Fairness 360, Adversarial Tests, and Differential Privacy.
Kjell Carlsson, Head of Data Science Strategy & Evangelism at Domino Data Lab, focused on the future of the enterprise MLOps platforms. Among other takeaways, he highlighted the three core steps organizations should adopt when considering MLOps platforms and MLOps strategy: diversity of users, compute, and hybrid side of things.
Ulrika Jägare, Director of AI & Automation at Ericsson, spoke about the operational readiness in AI and why that is important. Her presentation addressed several topics: how organizations should think about AI investment and how to balance the effort put into it, the difference between operating software and operating AI (not just developing but operating and understanding the difference). She also spoke about the MLOps concept and utilizing the MLOps approach; what organizations need to consider early is governing data and AI, as well as operating aspects of different business models in AI and how that impacts the other choices organizations need to make early on.
"While at the end of the day, the building of the ML algorithm is the easy part, the real challenge, if you want to leverage the value of AI, is everything around it, making sure you have a solid data pipeline that provides data to your models, not only in development but especially in production… It is also about the legal rights and bringing the ML model to production, where you realize you can't use the data you have trained the model on…. It is also about monitoring and managing the models in production and making sure the model stays accurate in production over time when it is in a live environment. There are many aspects that tend to be underemphasized as part of the ML life cycle.", explained Ulrika Jägare.
Mats Stellwall, Field CTO EMEA Data Science at Snowflake, shared more on collaboration around data without sacrificing governance and security. He also spoke about the shift from a model-centric approach towards a data-centric approach and the change from Big Data to more specific data. The factors he listed for a changing privacy landscape are: tightening privacy regulations around the world, increased awareness about privacy and transparency, and depreciation of third-party cookies and identifiers.
"Collaborating around data creates value, but we also have increased requirements around regulations and privacy that needs to be handled…There is a solution to this, around collaborating with sensitive data without exposing it", added Mats Stellwall and explained the case of Yao's Millionaires' problem, which is about two millionaires who are interested in knowing who of them is richer without revealing their actual wealth.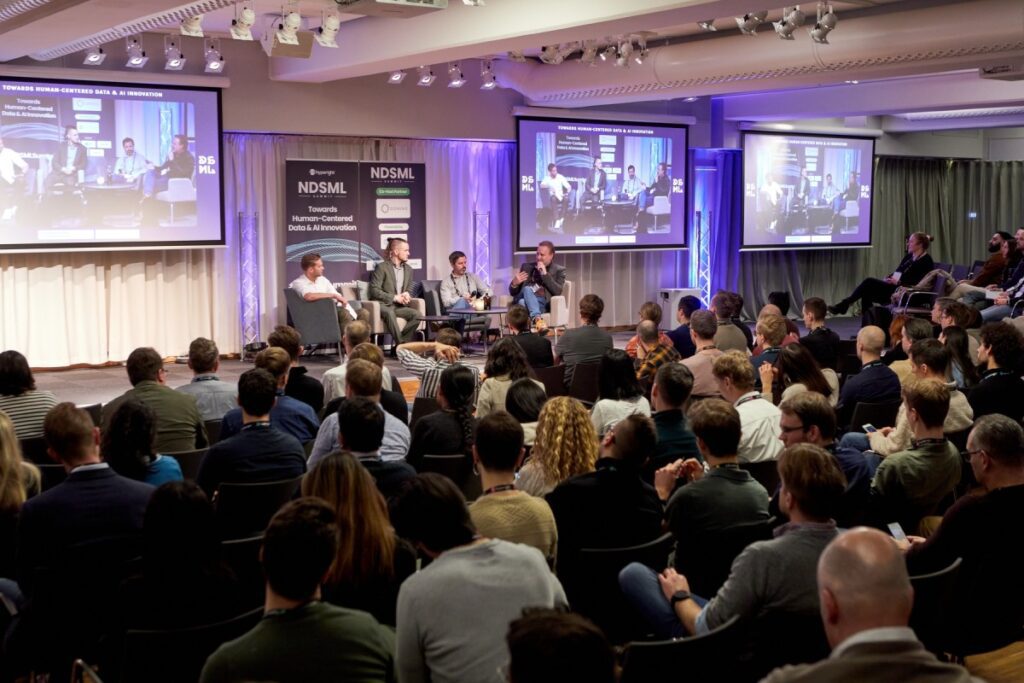 Insights from the Panel Discussions
After the panel discussion on the first event day, where we could hear about the overview of 2022 regarding the utilized potential of data science, ML and AI, the panel discussion on the second day covered the topic of the upcoming trends, challenges and opportunities for harnessing the full potential of data science and ML Functions.
Some insights from these discussions are:
The importance of the specialization of different data science and ML roles so organizations can achieve more outstanding professionalism
The need for monitoring of AI and proper tools for this
The misconception of AI regarding replacing the workforce
What are the ways to turn a non-data-driven organization into an entirely data-driven
It is vital to understand the corporate strategy and main goal based on which to build a process to explain the steps across data science
The importance of AI by design
How to move from the discussion to optimizing the value aspect of AI
As some of the expected trends in the industry were mentioned: auto ML, getting external data and utilizing other organizations' data, ways to collaborate with different organizations and gaining new insights and methods for performance, transfer learning for bigger and more powerful models available in the cloud, the need for AI transparency, sustainability and using AI for sustainability challenges and targets by 2030.
Three Stages with Over 40 Speakers – Highlights
This year at the NDSML Summit, we had over 30 sessions from some of the top global leading companies and experts. So, it isn't easy to recap everything shared at the three event stages: Strategy + Applied Analytics Stage, Machine Learning & MLOps Stage and Infrastructure + Data Engineering Stage. But we will highlight some of the topics covered and recommend you check out the content after the event for a deeper understanding of those topics (more info in the last section of this article).
We had a unique opportunity to understand the journey of Topdanmark going from manual towards automated car damage assessment and the types of data they use (structural data, image data, and external datasets). Vladimir Tripkovic told the story.
Adevinta's speaker, Iker Martinez de Apellaniz, explained why the company needed a platform for data products and how they created it. We had a presentation on an infrastructure-agnostic Machine Learning platform by Denys Kovalenkofrom Bolt and a scalable and centralized Analytics Platform by Trung-Duy Nguye and Benjamin Tapley from DNB Bank ASA.
From Bjorn Hertzberg from Algorete, we could learn more about the algorithmic business models -why they exist, how they work and how these models change the financial industry.
The well-known to our audience Anna Baecklund from ICA, shared more on this company's journey when migrating to the cloud and the lessons they learned: know your environment, know your backup and security, know your data and know your costs.
Another exclusive talk was that of Valerie Burchby and Xinran Waibel from Netflix, who shared more about overlooked costs behind the real-time data insights during event streaming operations. They also spoke about strategies to handle data inaccuracy because of potential problems that may arise: streaming going down, streaming delay, restarts and other complex issues and failures.
Mikael Huss from Codon Consulting focused on tabular data, the most common type of data, and basing deep learning models on this type of data. At the same time, Giovanna Miritello from Vodafone UK spoke about ML drift, its consequences and the need for monitoring them.
Peter Vester delivered an insightful session about marketing analytics for optimizing sales from Novo Nordisk. He emphasized using advanced analytical models to investigate the impact of marketing efforts to make the marketing strategies more data-driven.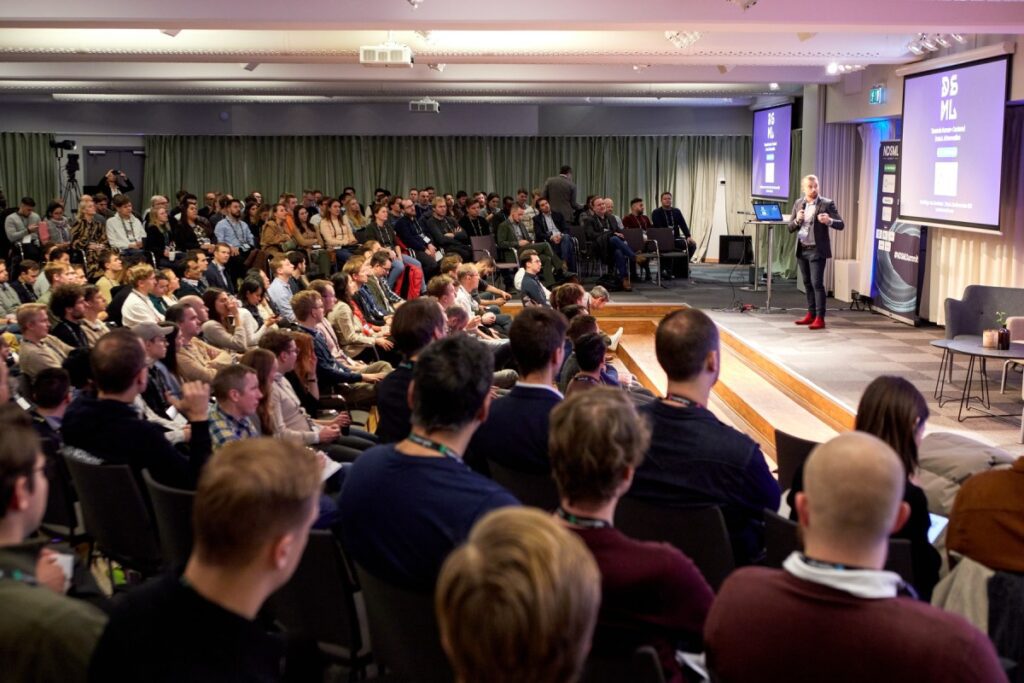 On the topic of academia and data science, the usefulness of academic research, bridging the gap between the two sectors and the collaboration formats, we could listen to the presentation by Anastasia Varavafrom SEB.
An interesting session was the one by Love Börjeson from the National Library of Sweden, who presented how to leverage the TV broadcasts at the National Library of Sweden with the Video-Sound-Text Transformer. About the NLP models this time too spoke Busra Cikla from ING.
Besides the keynote presentation on data readiness, another speaker who highlighted this topic was Fredrik Olsson from Gavagai. The Swedbank speaker Varun Bhatnagar, shared about this company's learnings and experiences while implementing MLOps. On the topic of MLOps insights and experiences shared also Oswaldo Gomez from Roche.
During this year's edition of the NDSML, we could hear another best practice on computer vision for the operations of Shell. More on email optimization done in a data-driven way spoke Keenan Lyon from LeoVegas Group. Another speaker besides the keynote that addressed the topic of Responsible AI was Linda Leopold from H&M Group.
The Uber speaker, Claire Hempel, explained how the product team from this company ideated, implemented, and analyzed the data from the payments
This session is especially for audiences interested in product data science or working cross functionally as part of a product team.
The list of topics, insights, and conclusions can go on and on, making this edition of the event so unique and useful for the community.
NDSML Summit – Important Facts
The NDSML Summit this year was followed by 356 attendees on-site at the Birger Jarl Hotel in Stockholm and by 56 attendees online at the event platform Agorify. And like every previous edition of this event, this one was sold out way in advance. That proves that there is enormous interest by professionals and organizations to share and learn how to overcome the limitations with the pace of technological advancement in the area, lack of experienced talent, and data quality, and to share and learn how to manage large-scale and cross-industry AI initiatives across the enterprise.
Co-host partner of the 6th edition of the NDSML Summit was Domino and powered-by partner Snowflake. Other partners supporting another excellent event edition were HP, Dataiku, NVIDIA, Neo4j and Databricks, while innovation partners were Vinted and Axel Johnson.
Two pre-event workshops: the tpo33 event on "Citizen Data Scientist" supported by Dataiku and the workshop on "Lightning fast MLOps: Accelerating the Machine Learning lifecycle" supported by Domino and NVIDIA. And some in between all of these happenings, we had an amazing After Work Data Science & ML Party – "AI Confessions".
The program's content for this event can be accessed on-demand through Agorify for any registered attendee and five weeks after the Summit, while anyone interested in the insightful sessions can sign-up for Hyperight Premium for a year. If you want to watch past editions of this important Summit, check out the Hyperight YouTube Channel.