We officially opened the Nordic Data Science and Machine Learning (NDSML) Summit for the sixth time, and we are thrilled about that.
This edition has a hybrid form, so we met with professionals and organizations using Data Science, Machine and Deep Learning, NLP and AI onsite at the Birger Jarl Hotel in Stockholm and online at the event platform Agorify.
Many news features follow this year's edition. Let's see what has happened during the first event day and what will follow next.
What Can We Share From Day 1?
In his remarks on the first event day, the Chairman of the NDSML Summit for 2022, Errol Koolmeister, Founder of The AI Framework, said that conversations now had changed from those several years ago based on his observations on models and organizations.
"I want to change the conversation away from modelling and algorithms. Not because it is not fun, it is super fun, but to change the language so people can understand what we are speaking about.", said Errol Koolmeister, who added, "Now we need to mature the conversation event more and start talking about capabilities (of organizations)."
In his presentation, he spoke about the significant challenges for scaling up AI that he linked with the maturing of the capabilities of the organizations. He addressed the meaning of the capability of organizations in this context, the different types of capabilities, and the importance of technology, people, and processes when utilizing AI and during the data-driven journey of organizations.
The first Keynote speaker for the day was Toju Duke, Programme Manager, Responsible AI at Google. Through her presentation, she spoke about what Responsible AI is, and the impact of AI built without Responsible AI frameworks. What is essential for organizations to know based on this presentation is that AI, as fundamental, groundbreaking technology, has an adoption rate of 64% year over year and along with its innovative and transformational abilities comes challenges with ethics and responsibility. That's why every individual and organization must develop AI models to have a Responsible AI framework. In her presentation, Toji Duke presented some use cases and best practices on this topic. She pointed out what to consider when professionals think and build AI/ML models responsibly and shared several resources like: Odi's Data Ethics Canvas, Know Your Data, Fairness Indicators, AI Fairness 360, Adversarial Tests, and Differential Privacy.
The second Keynote speaker at the first event day was Kjell Carlsson, Head of Data Science Strategy & Evangelism at Domino Data Lab. His speech focused on the future of the enterprise MLOps platforms since they have rapidly gained popularity as more businesses realize how critical it is to have a reliable platform for accelerating research and operationalization. Based on this presentation, the three core things that organizations should adopt when considering MLOps platforms and MLOps strategy are: preparing for a diversity of users, compute side of things (being able to put training on workload and spin up scalable infrastructure is important), hybrid side of this (being able to use different environments in organizations and make data and tool stack available). In his presentation, he pointed out that some latest surveys show that more organizations, over time, report that hybrid and multi-cloud support by the AI Platform is essential for the execution of AI strategies. And also, organizations that adopted a hybrid cloud approach to the ML developed benefited across the lifecycle.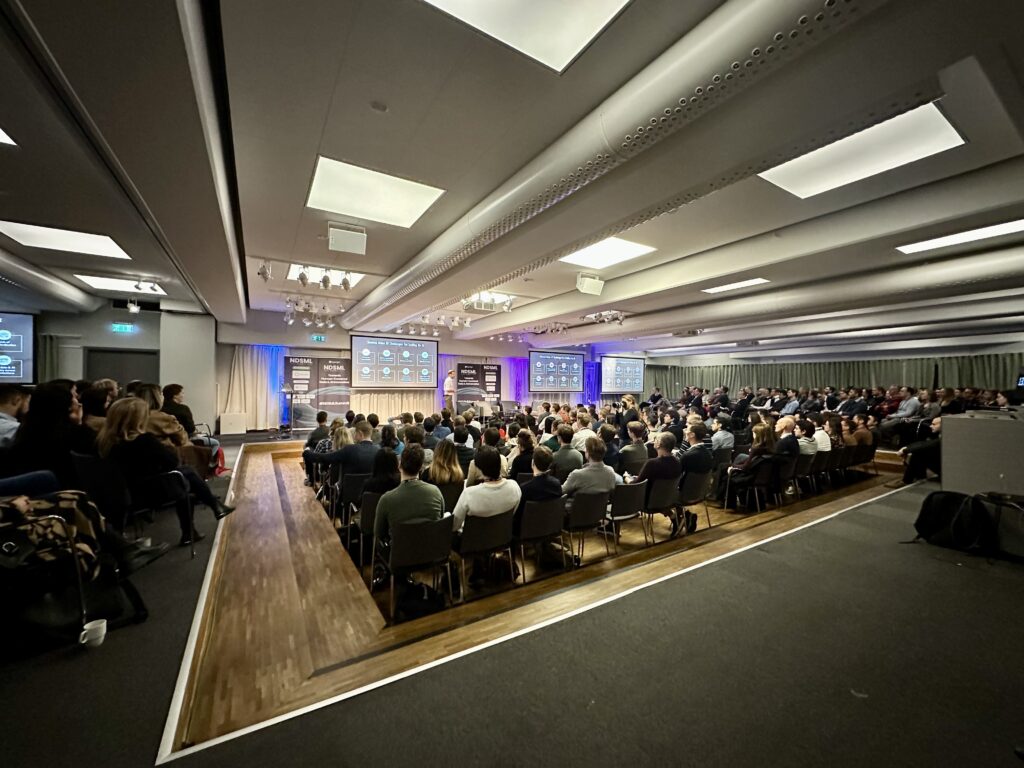 The first panel discussion at this year's NDSML Summit was between the members of the Advisory Board of the NDSML Summit about an overview of 2022 when harnessing the full power of Data Science, ML & AI Functions. Some of the key takeaways of this discussion are that there is a need for specialization of different data science, ML and AI roles, which is good since it comes from necessity and knowing that it is hard to find people to do what is needed. Also, it was mentioned the importance of putting data scientists in touch with the operationalization functions of the organizations. During the panel discussion, several best practices for monitoring AI were mentioned. One of the conclusions was that there are few well-working tools for monitoring, which is why there is a need for many specialists to do the monitoring. It was concluded that having or not having the right tools is linked with the maturity level of organizations. Some misconceptions about AI regarding replacing the workforce were also discussed. Among the crucial steps and investments, organizations should be aware of is the change management and adaptation regarding AI.
The day continued with insightful and inspiring sessions at the three event stages.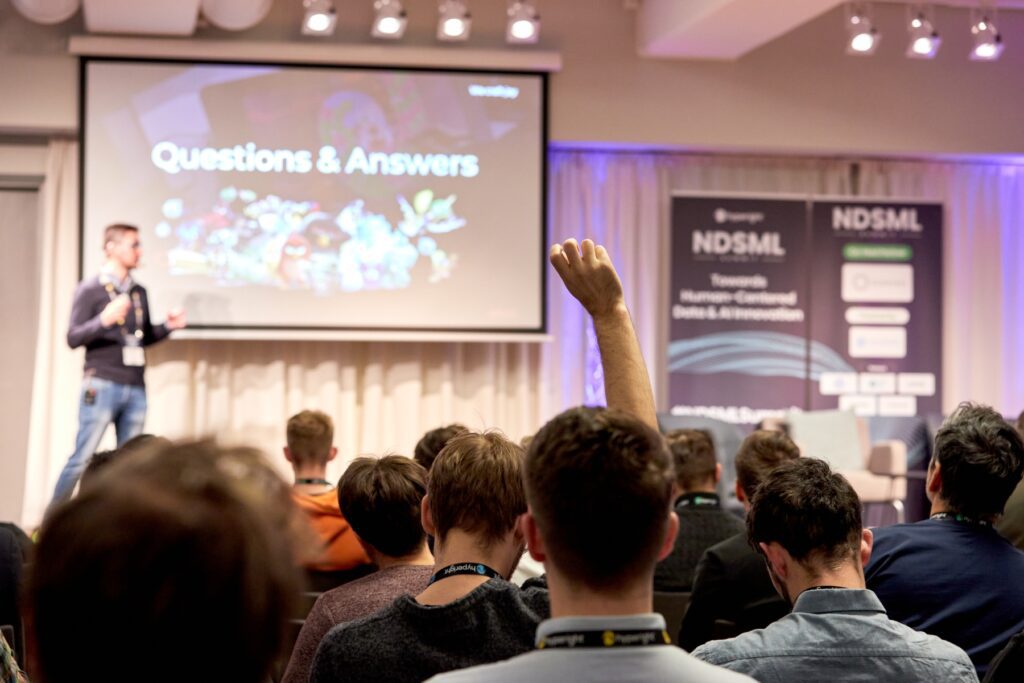 At the Strategy + Applied Analytics Stage, Jesper Nordström, Head of AI Strategy & Policy at Nordea, spoke about what Sci-fi can teach us about AI, while Kajsa Norin, NLP consultant at Kajsa Norin AB, spoke about designing human-centric AI. "AI-by-Design: A 6-step approach for building human-centred AI solutions" was presented by Ioannis Zempekakis, Head of Global Data Science & AI services at OLX Group and Serena Westra, Co-founder & Sr. Strategic Experience.
At the Machine Learning & MLOps Stage, we had the opportunity to listen to Vilhelm von Ehrenheim, Principal Engineer & Motherbrain Lead and Lele Cao, Staff Data Scientist & Motherbrain DS/ML Lead at EQT Partners, about forecasting revenue for growth companies with limited data. Kristof Neys, Director of Graph Data Science Technology at Neo4j, shared more about how Graph Data Science can charge the Knowledge Graph. Ignacio Amaya de la Peña, Lead Machine Learning Engineer at Rovio, presented about reinforcement learning and how it is used for Rovio personalized Angry Birds Games.
At the Infrastructure + Data Engineering Stage, Shivam Bharuka, Production Engineer at Meta, spoke about ML training in production at this big tech company, followed by the presentation from Dael Williamson, Field CTO at Databricks, on building a DS/ML capability of enterprises that scales. The last presentation at this Stage was by Micha Ben Achim Kunze, Lead Data Engineer at Maersk, who presented on "Iterate on Data in Production – Safely".
The Data Science Party of the Year Worth Remembering
The excitement of the opening day continued to grow, knowing that at the end, we had the Data Science Party of the Year, "AI Confessions". At Nalen, a venue in the centre of Stockholm known for important music events through years and decades, the amazing word-class performers created a great atmosphere. Nalen was the place that provided the space for music with Middle Eastern elements and Sufi influences to cross the music of the 80s and 90s in versions not heard before and to connect with the sounds of Future House, Deep House & Trap in hybrid forms.
What's Planned for Day 2?
The agenda of the NDSML Summit edition for 2022 has rich content planned for the second event day. Everyone participating in this 6th hybrid edition should be ready to listen to the Keynote speakers Ulrika Jägare, Director AI & Automation, Ericsson AB at Ericsson and Mats Stellwall, Field CTO EMEA Data Science at Snowflake. Another panel discussion is scheduled, this time on "Harnessing the full power of Data Science and ML Functions – Trends, Challenges and Opportunities". There are more speakers and talks to know about. Stay updated via the event's social media channels: