Data Innovation Summit turns five next March. Along the way, we have had fantastic speakers unselfishly sharing their knowledge on stage with their peers. Without them, this journey would be impossible.
This interview is part of an interview series dedicated to humanising Data and AI innovation and celebrating speakers who have presented at the Data Innovation Summit. The emphasis lies on the Data/AI people/practitioners, their professional journey and their stories.
The telco and the retail industry have much more in common in terms of data and analytics than you would think.
The person who brings together these two worlds and can give an insightful overview of the two industries is Fredrik Backner, a speaker at the Data Innovation Summit 2019.
Hyperight: Hi Fredrik, it's great to have you with us today and have the chance to talk to you. To refresh our memories and introduce yourself to our readers, please tell us a bit about yourself and the company you are coming from.
Fredrik Backner: Nine months ago I joined Kicks as the Chief Analytics Officer. Before joining Kicks I spent 5 years building and leading the global analytics organization for Telia Company, in the early days of "big data". That was quite an exciting journey, where we grew from one (myself) to 50 colleagues – so a fun and rewarding ride, with lots of learnings. The move from telco to retail was perhaps not too obvious, but getting to learn a new industry being in an equally intense transformation as telco, was too exciting to turn down. The fact that Kicks has made a big bet on analytics and digitalization, with very strong sponsorship from the owners and the CEO was also vital. Kicks is the Nordic's leading beauty retailer, with 240 stores, 2,5 million members, and with a turnover of 3,5BSek. Kicks is part of the Axel Johnson family with other brands such as Åhlens, Dustin, Axfood and Filippa K among others, so a heavy retail portfolio.
Hyperight: Next year we are celebrating our 5th anniversary. A lot has changed with data and advanced analytics during these 5 years. From your point of view, where do we see the biggest changes and advancements with AI and data we have had?
Fredrik Backner: The ML, analytics and data engineering space is a crazy and fun place to be in. The space has undergone a dramatic change just the last few years, largely driven by cloud computing and a thriving open source community. Five years ago cloud was barely existing, and you had to build and manage everything yourself using your own infrastructure. In my previous job, where we had a very large Hadoop-based data lake, about half of my tech and engineering staff were more or less solely dedicated to operations, infra, monitoring, version controlling, upgrading, and making the various applications being alive and functioning. With cloud, you don't need more than a fraction of infra headcount compared to on-prem and can shift resources from plumbing to higher up in the analytics value chain.
From an ML and data science perspective, the change has not been as much disruptive but has rather evolved a lot. One notable change is the massive shift towards open source tools and applications such as Notebooks and Spark, which has also driven a switch from proprietary tools, to coding in Python, Scala or R. Another fundamental difference for a data scientist today compared to five years ago is how quickly you can develop, train, operationalise and serve a model, using one of the many new ML frameworks such as MLFlow, Keras, scikit-learn and many more. There are also several relatively potent low/no-code platforms that make it easy for particularly novice data scientists to get going, that didn't exist just a couple of years ago.
Several new "Auto ML" packages and platforms have also come available both as open source and from vendors, that speeds up the process of selecting and tuning models. Frameworks such as Featuretools has evolved, improving the precision and efficiency of models. Finally, many new tools for monitoring, evaluating, packaging, operationalizing, and managing ML models is a big change, making it easier to operationalise ML and AI into business processes.
Technology shifts and trends aside, I also see an increased understanding among companies of how machine learning can and cannot be applied. Some years ago, the overall view of business leaders was that with a team of data scientists in place you are all set. These days more companies understand the role of a data scientist, why data engineering is equally (or more) important as data scientists, and not the least how crucial it is to work cross-functionally with business to create actual business value.
Lastly, good old Business Intelligence must not be forgotten. While not having undergone an as dramatic technological change as data engineering and data science over the past five years, BI has grown into a critical capability for any business to understand the performance of today, and without it, you can't plan for tomorrow. There are also in parts similar competences and interdependencies between data engineering and BI, which is why I think it is a really good idea to have the BI developers in the same teams as the data engineers.
Hyperight: Fredrik, in your presentation at Data Innovation Summit, you talked about your lessons learnt on the journey toward data & analytics at KICKS. Almost a year later, where is KICKS on the Machine Learning journey?
Fredrik Backner: That particular presentation I actually did partly to myself to capture my own lessons learned from the previous five years. Since joining Kicks 9 months ago, we have established a full data engineering and data science tech-stack based on Azure, where all our data is directly analyzable in both raw and refined format, and we have delivered a handful of selected high impact use cases. The initial months were relatively introvert so that we had both a tech and data foundation and a handful of showcases to start from. But after the first few months, we established a more visible analytics steering to make sure business is heavily involved throughout the iterations of a particular analytics product, whether it is our recommendation engine, customer 360 targeting engine, campaign analytics, store optimization, or marketing attribution platform.
The combination of being native to cloud, a very strong sponsorship from our CEO and board, and involving business has made the journey far much faster than I hoped for. And compared to my previous job where we were entirely 'off cloud', everything goes in warp speed. But there is lots of work still ahead.
Hyperight: What are some challenges you encountered along the way?
Fredrik Backner: From the perspective of tech and data science, not too many challenges. Much thanks to the tech and analytics ecosystem that the cloud, and in our case, Azure provide. One main challenge – which I believe most CAOs recognise – has been to recruit quickly and secure the right team. With the team in place, we are in a very good position and with very little reliant on consultants. Also, even with cloud there are definitely still challenges with scaling and ML operations which we definitely spend a lot of time on.
Perhaps the biggest challenge – that I also think most analytics leaders recognise – is the adoption, change management and the cross-functional efforts that are required to turn analytics and insights into concrete and measurable value. After nine months at the job, we are still having much of the value at stake ahead of us, while having started to materialise value, particularly in our customer analytic domain.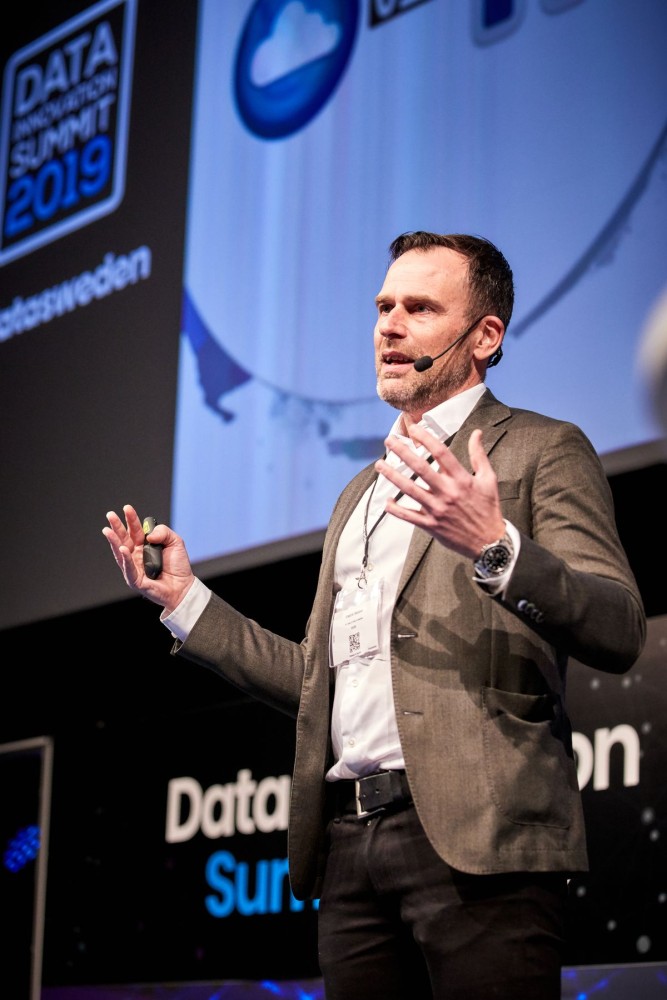 Technology shifts and trends aside, I also see an increased understanding among companies of how machine learning can and cannot be applied.

Hyperight: And lastly, talking about the decade to come, what are your future outlooks for AI and ML for 2030, particularly in the beauty & retail industry?
Fredrik Backner: That is a big one. It's hard to even predict the next couple of years given the massive innovation and disruption going on in the whole AI domain. I do believe however that the role of data scientists will have changed. Given the already existing trend where more and more steps in the ML and deep learning value chain are becoming more automated with new ML frameworks, the role most companies will look for will be "ML Engineers", basically an ML-savvy Data Engineer instead of today's sometimes unbalanced focus on pure-breed data scientists. So in short a switch from building ML models to adapting, using and applying them.
Data Scientists will still very much be a sought after skill, but much of these roles will increasingly be found upstream in the ecosystem, at companies such as AWS, Google, Azure, and other providers of ML and AI frameworks, and where the implementation of these frameworks at companies will increasingly be spearheaded by ML Engineers.
This shift also means that AI will become vastly more accessible to a broader audience, and all companies – not the least retailers – will have ML naturally embedded in most of their processes, for example, personalization and customer value management processes, but also in back-office automation ranging from controlling, supply chain, and merchandising.
In the next several years I am also convinced we will see major breakthroughs and commercial applications in the areas of more heavy-duty machine and deep learning, such as reinforcement learning, computer vision and NLP.