This year's Data 2030 Summit was more insightful, immersive, and collaborative. Allow us to tell you why!
Organizations have massive data legacy, a legacy of complex and extensive infrastructure, issues with the quality of the data, no processes and other challenges. Most aim to set data as an asset, make data-driven business decisions, and implement data democratization. The Data 2030 Summit was a perfect place to match the challenges and solutions available to organizations. Many new exciting approaches were shared to help transform what is urgently needed – a Modern Data Platform built on a Modern Data Strategy and Architecture.
Case studies, interactive panel discussions and peer-to-peer roundtable discussions were the formats through which the experts of the leading organizations in the Nordic region and beyond presented their knowledge and recommendations on the three event stages. This year, the event again proved the one single purpose for which it exists – accelerating Data and AI transformation throughout sectors and industries by providing a future-proofed and agile modern data management engine to support data innovation at scale.
The Chairperson of this year's Data 2030 Summit was Lotte Ansgaard Thomsen, Lead Data Architect at Grundfos. In her remarks during the event, she said that many data projects fail (with about a 70% failing rate), and it is more because of challenges regarding people rather than technical challenges. One of the reasons is the processes in data projects that are missing or not inclusive and collaborative. "Data projects are teamwork in the extreme. If you do not have collaboration between the right people, you will have a problem because you have the best people and build the best organization, but if everyone relevant to the project does not collaborate, it will not work. So, the better the organization's culture is, the better the project will work.", said Lotte Ansgaard Thomsen. How to ensure collaboration? According to Ansgaard Thomsen, the steps are: to spend some time on the business idea, spend some time on the AI/analytics strategy, start sooner than later, and have end-to-end knowledge of the data flow, as well as a solid build foundation.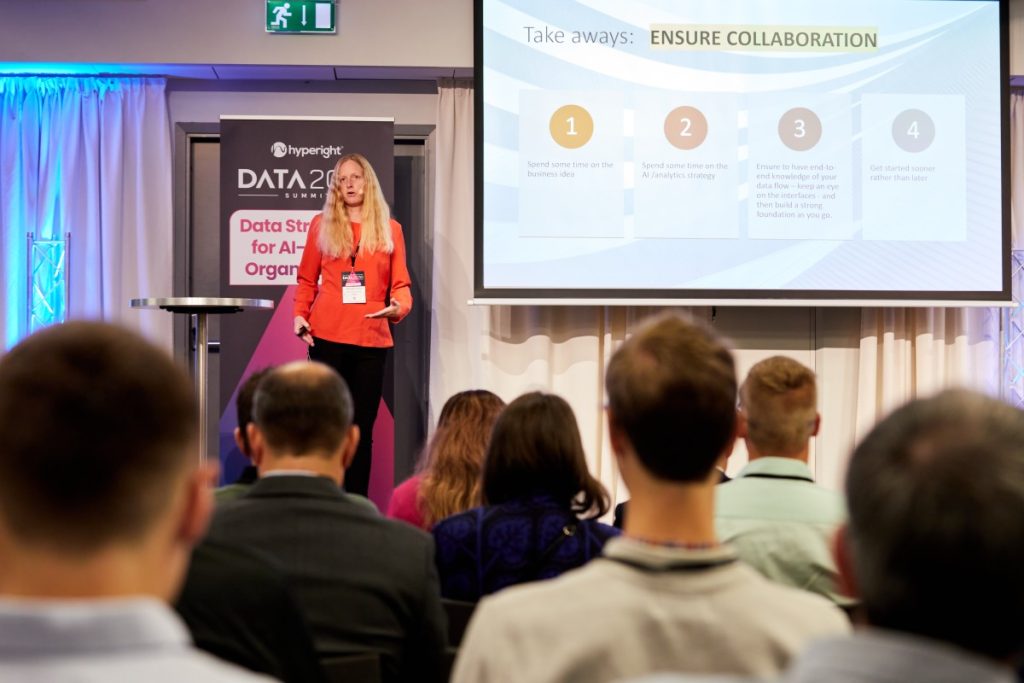 The presentations from the keynote speakers during the event were incredible and inspiring:
Mats Nordlund, Head of Data Factory at AI Sweden, spoke about a case study on establishing an edge learning lab to explore how to train AI models on the edge. This lab has gained much attention on a national and international level, as well as the engagement of academic institutions and big tech companies. The edge learning lab, according to Nordlund, is trying to solve challenges, among which the strict data regulation that's reflecting on the training of the AI models. This is positioning edge learning as a critical technology to solve this and other challenges.
The Keynote speaker, Greg Hanson, Evangelist & VP EMEA & LATAM at Informatica, spoke about data complexity and the challenges it brings for organizations, but most importantly, he presented a solution – an intelligent data management cloud and one integrated platform using metadata for building and fueling ML and AI on the cloud. One company that is using this solution is Ericsson, and we had an opportunity to hear about the learnings from Maria Ana Liz, Head of Data & Analytics Self-Service. One of the benefits of the data-driven journey of the company was the realization that it is not just about technology but it's also about culture and people within the organization.
Helena Hörnebrant, Director of Operation and Transformation, Sweden at Scania, was another Keynote speaker that spoke about the digital transformation of the company that is trying to exit the field of just selling trucks, buses and engines but selling solutions. How do organizations flip the odds to reach the goal? "You need to have an integrated strategy, commitment of the leadership, deploy high calibar talent, have an agile governance mindset, effective monitoring of the progress and biz lead modular tech", explained Hörnebrant.
This year at the Summit, there was a one-panel discussion on "How To Build An Intelligent Data Strategy To Accelerate Data And AI Innovation". Among participants, we had the chance to listen again to Helena Hörnebrant from Scania, Greg Hanson from Informatica, Jo Coutuer, Chief Data Officer (in transit) at BNP Paribas Fortis and David Huseliu, Chief Data Officer at Swedbank. They pointed out the importance for organizations of having a data strategy, the importance of having support from the management and funding for implementing the data strategy, and the right people to implement it. Diversity and inclusion in roles and other factors were agreed upon as another critical component for the data-driven journey of organizations, as well as investing in people while democratizing the data. Applying change management is one of the crucial pieces of advice from the abovementioned experts to make the implementation of the data strategy successful and possible. Another was to simplify and standardize the technologies, or not aiming to have everything from the start but building from one to the next level based on what the company already has or doesn't.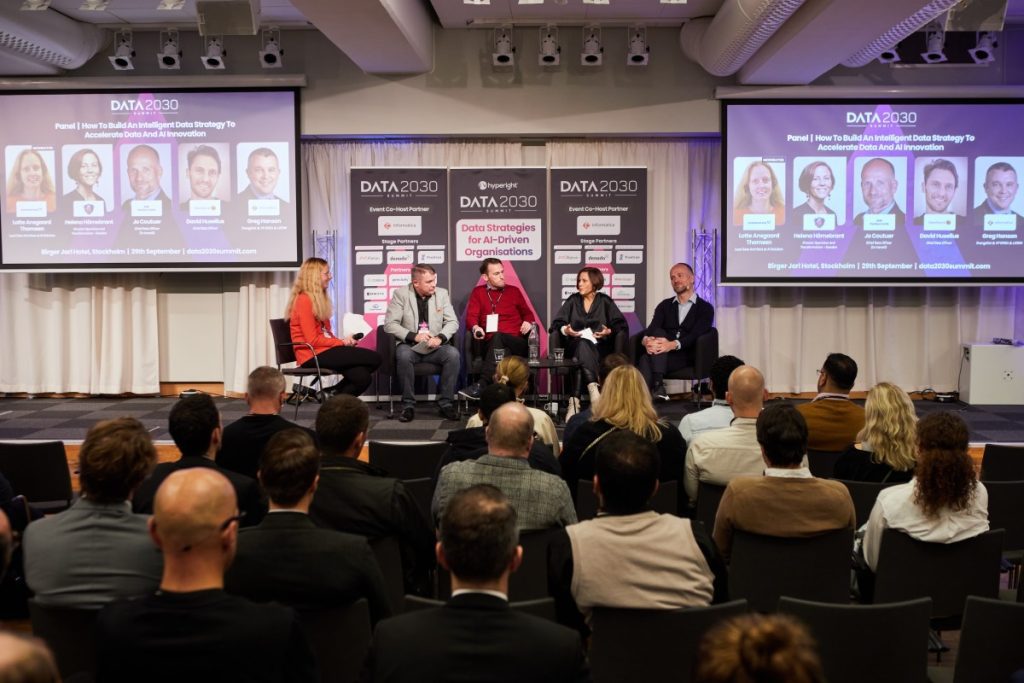 The round table discussions took this year's Data 2030 Summit to a new level. The purpose of these activities was to enable delegates to deepen their knowledge in a specific area, meet other delegates with similar challenges and collaboratively try to find a solution to some of the common hindrances. Along with presentations from leading organizations and experts, delegates had the opportunity to follow 50 minutes of immersive sessions consisting of 20 minutes of Ignite Talks and over 20 round table or Data Forge Sessions discussing the theme of the Ignite Talks.
In the following paragraphs, we will lead you through the highlights from the three Summit stages:
Modern Data Strategy: The partner of this Stage was Alation and their representative, Matt Turner, Director, Partner and Industry Marketing, presented about the three megatrends shaping modern data strategy: Data Mesh, Data Fabric and Modern Data Stack. Another interesting presentation was the one of Mikko Muurinen, Head of Data & AI at Helen Oy, who explained how this company keeps the data strategy alive and refreshed based on the changes in the energy industry and other factors. But how do you bring a data strategy to life? There are a lot of best practices, and Karolina Perzon, Head of Governance & Strategy at Telia shared the approach that this organization took. Other speakers that shared their successful stories, advice, recommendation and expertise during this stage presented Nicola Askham from The Data Governance Coach; Niladri Dutta, Global Director & Head of AI Ideation & Data Strategy at Ericsson AB and Jo Coutuer, Chief Data Officer (in transit) at BNP Paribas Fortis.
Modern Data Platform: Denodo was the partner of this stage, and they had the first presentation here by Robin Tandon, Director of Product Marketing, who spoke about the core components of a modern and future data platform, including the role of AI/ML, the data catalogue and the benefits of a logical approach. Kitti Noémi Németh, MDM Platform Owner at PostNL, also presented at this stage, where he spoke more of a data platform as a product and how to scale a data management platform. Johan Isaksson, Director and Head of Data Platforms at Volvo Cars, shared more about the importance of the balance between technology, people and culture in the process of transformation. Valuable information on this stage was also shared by Josefine Boqvist, Head of Platforms Analytics & MarTech IT at Telia; Kristiina Tiilas, Head of Digital Platform at Outokumpu Oy and Rockie Yang, Founder of Knock Data AB.
Modern Data Architecture: Partner of this stage was Fivertran, and they presented first on the topic of Modern Data Stack by Edwin Commandeur, Lead Product Manager. With his presentation, participants could learn about the history of a modern data stack, how the data world evolved to necessitate it, and what a modern data stack looks like today. The common everyday language is essential when working with cross-functional data teams and business stakeholders. Robert Børlum-Bach, Head of Analytics Architecture at TV2 DANMARK, shared more on this. While the speakers from Swiss International Airlines, Federica Lionetto and Pierre van Heddeghem, spoke about "Home of Data", a data-strategy initiative with a bottom-up approach. The goal of this strategy is to empower individual employees to identify the most pressing challenges and drive change. Other similar insights and valuable information on this stage were shared by Mahmoud Yassin, Senior Data Manager at Booking.com; Shivaprasad Nayak, Enterprise Data and AI Architect at easyJet; and Håkan Jonsson, Lead Architect Data Strategy at Swedbank.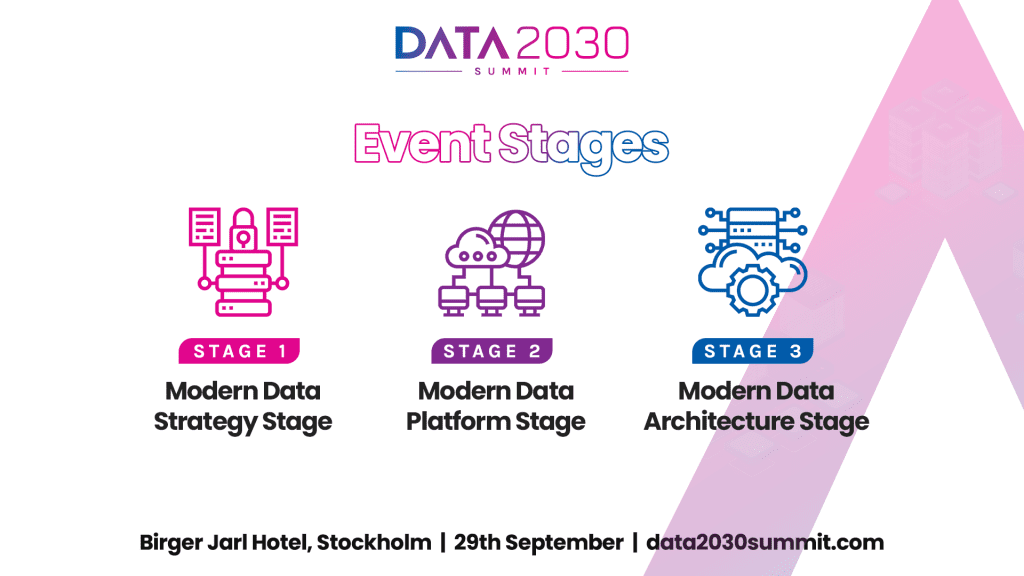 Even though we had the pleasure of getting some insights before the event from some of the leading experts and interviews with them, there was nothing like being part of the event, where first-hand information was shared. Other vital facts that are worth mentioning and highlighting are:
Co-host of the 6th edition of the Data 2030 Summit was Informatica, and we were honoured to go through this experience with them.
About 340 delegates on-site and online were following the scheduled activities.
Agorify, the event platform Hyperight uses for its events, this time as well made this even true hybrid and smooth experience.
The event presentations and the content will be available on-demand via the event platform for the next five weeks. If you want the content available longer, subscribe to Hyperight Premium.
You can register as a speaker, or nominate one, for the next edition of Data 2030 Summit and other upcoming events by following updates on Hyperight website and social media channels.