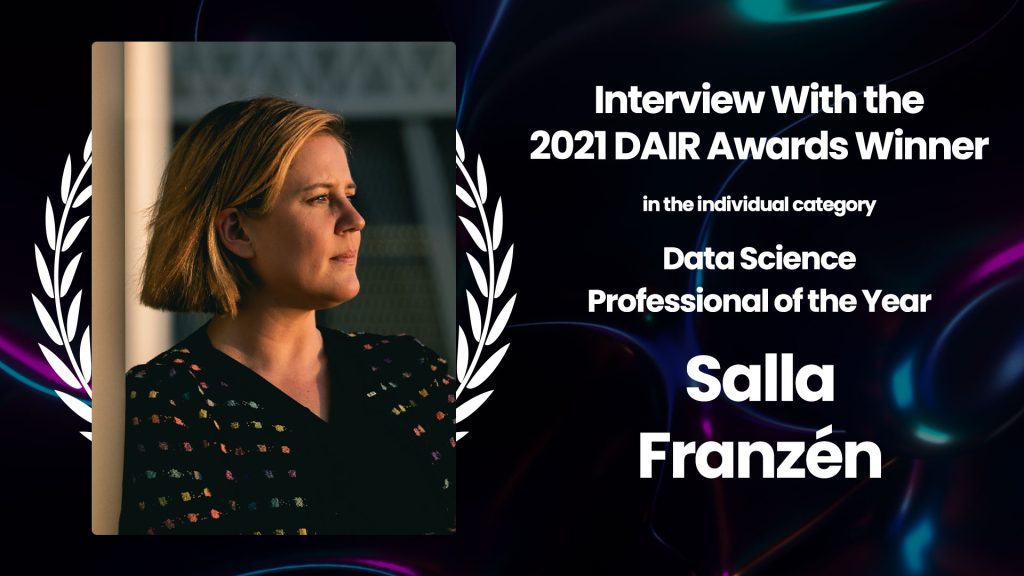 The Nordic Data and AI Readiness (DAIR) Awards acknowledge and celebrate exceptional individuals, teams, and organizations that have done great work in data, analytics and AI across the Nordics. Before this year's edition of the Nordic DAIR Awards, we talked with some of the winners of the 2021 edition.
Hyperight: Last year, when you got the "Individual Category Data Science Professional of the Year" Award you were working at IKEA Retail (Ingka Group) as a Data and Analytics Director Pricing. Has anything changed since last year and what are you working on these days?
Salla Franzen: Since mid-July this year I was promoted to be responsible for the Data and Analytics team in the Customer domain of IKEA Retail (Ingka Group), with the overall D&A responsibility to drive improvements in customer experience for our customers and coworkers.
Hyperight: What motivated you to apply last year, and do you have any advice for future applicants?
Salla Franzen: I was nominated to the award
I think in general, just focus on doing what you are passionate about and have fun while doing what you enjoy!
Hyperight: Looking back on the DAIR Awards from last year, how would you describe the experience of the ceremony? Did you expect to win the Award?
Salla Franzen: I absolutely did not expect to win, it was an incredibly humbling and happy experience to be nominated, and then to be chosen! Somehow the fact that it is such a democratic process made the award feel extra encouraging. I really like the fact that the nominations are open for all to nominate and to apply, there are so many talented people out there who deserve recognition for all the great work they are doing.
Hyperight: Has the Award made any difference in your career, and do you plan to apply this year?
Salla Franzen: I moved to IKEA in September last year, changing jobs can always be a bit daunting – the Award was a great encouragement to continue doing what I am passionate about! I look forward to learning more about the nominees this year!
Hyperight: Regarding awards, people are known to choose some interesting spots for safekeeping. Where in your home/office do you keep your DAIR Award?
Salla Franzen: I'm afraid I'm very unimaginative with the placement, I keep it in my office at home.
The deadline for applying and nominating for the 2022 edition of the Nordic DAIR Awards is October 15th. The Awards are divided into two main categories: Individual and Company. Explore more about the DAIR Awards.