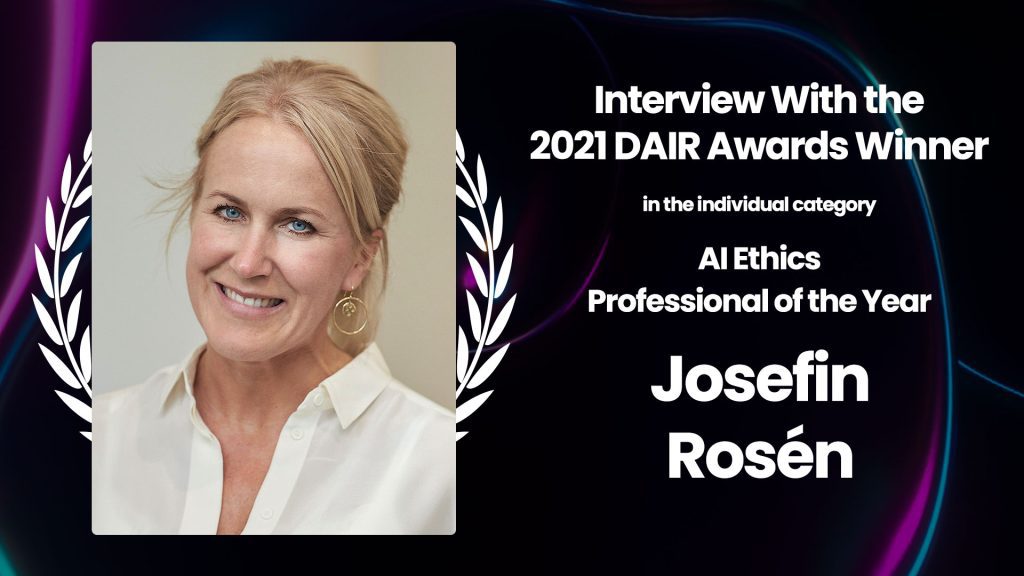 The Nordic Data and AI Readiness (DAIR) Awards acknowledge and celebrate exceptional individuals, teams, and organizations that have done great work in data, analytics and AI across the Nordics. Before this year's edition of the Nordic DAIR Awards, we talked with some of the winners of the 2021 edition.
Hyperight: Last year, when you got the "Individual Category AI Ethics Professional of the Year" Award you were working at SAS Institute as an AI & Analytics Regional Leader, Nordics. Has anything changed since last year and what are you working on these days?
Josefin Rosén: I am still leading the Nordic AI team at SAS Institute and nothing has really changed since last year. Our most important task is still to make sure organizations have the knowledge and support needed in order to operationalize AI in a responsible manner. We are coming closer to an effective AI act and we are noticing how our customers more than ever want to discuss responsible AI/ AI Ethics and how to prepare to be compliant to the AI act.
Hyperight: What motivated you to apply last year, and do you have any advice for future applicants?
Josefin Rosén: Actually I did not apply, I was nominated automatically after being nominated to the Nordic 100 list. Although I can definitely recommend applying – my network has grown substantially and I also find myself in a lot more exciting discussions and interactions involving my topic (responsible AI). And the award ceremony was one of the highlights of my 2021!
Hyperight: Looking back on the DAIR Awards from last year, how would you describe the experience of the ceremony? Did you expect to win the Award?
Josefin Rosén: The ceremony was wonderful and so well organized. Incredibly inspiring to have so many AI brains, colleagues and role models in the same room. Discussions were interesting throughout the night, and it felt like the Oscars
. I absolutely loved dressing up for this (especially after a long pandemic) and no – I certainly did not expect to win. I was amazed even being nominated. I would recommend to have a little speech prepared in case you win (I had not
).
Hyperight: Has the Award made any difference in your career, and do you plan to apply this year?
Josefin Rosén: My network has grown and I have been consulted in even more situations related to AI ethics/responsible AI, including participation in panels and as presenter. I have not yet applied this year, but maybe I should
.
Hyperight: Regarding awards, people are known to choose some interesting spots for safekeeping. Where in your home/office do you keep your DAIR Award?
Josefin Rosén: I keep it in my home office – together with a couple of other trophies I got from my daughters – where I can see it every day.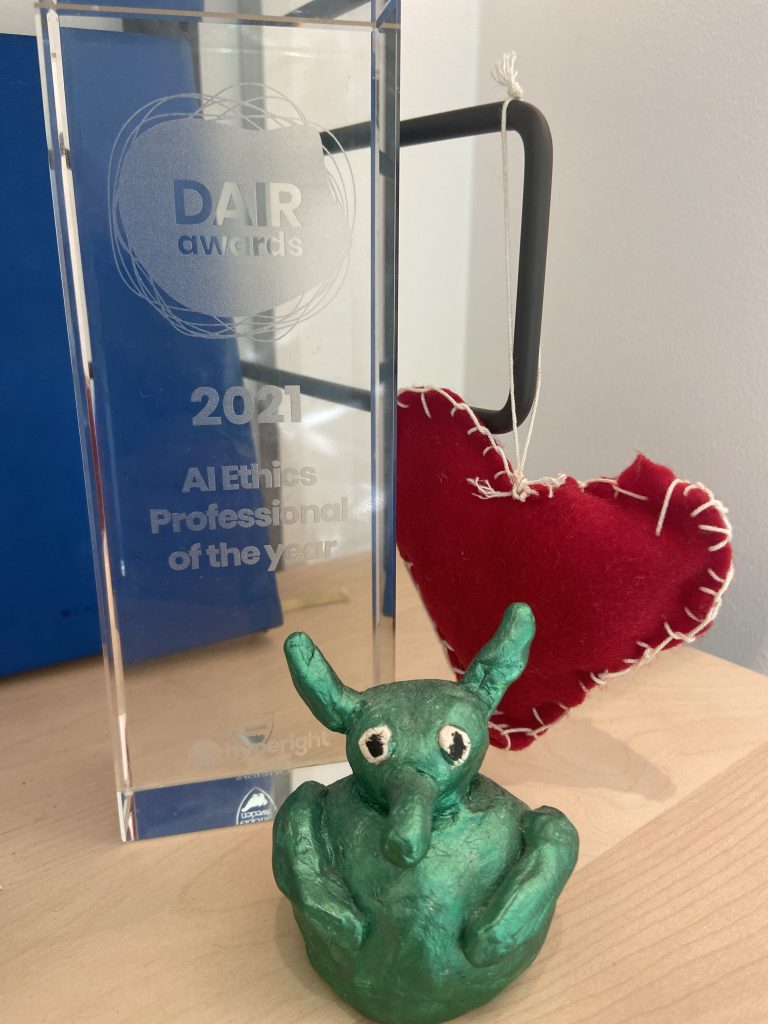 The deadline for applying and nominating for the 2022 edition of the Nordic DAIR Awards is October 15th. The Awards are divided into two main categories: Individual and Company. Explore more about the DAIR Awards.